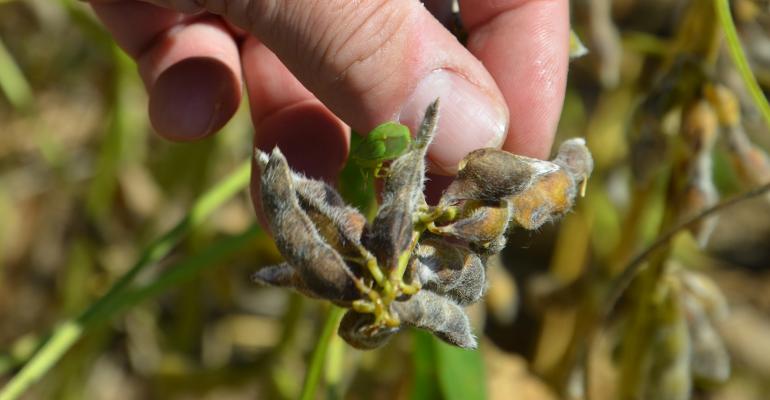 Soybean Pest Beat: Learn about their life cycle, and be ready to scout and act.
Jan 29, 2019
Stinkbugs were a problem in soybeans in 2018. Can I develop a plan to control them and prevent problems in 2019?
The Indiana certified crop adviser panel answering this question includes: Gene Flaningam, Flaningam Ag Consulting LLC, Vincennes; Greg Kneubuhler, G&K Concepts, Harlan; and Tom Stein, manager of the Boswell and Templeton branches for Ceres Solutions Cooperative.
Flaningam: Management of stinkbugs will be a late-season decision based upon thresholds and yield potentials for each farm. Threshold for average soybean fields would be around 40 stinkbugs per 100 sweeps with a sweep net. For high-management or seed fields, the threshold should be 20 stinkbugs per 100 sweeps.
Soybean pods should still be green when considering treatment. Application of a product at R3 with fungicide may not fully control stinkbugs. This application would typically be in late June. Most stinkbug infestations occur from late July through early September. A second application of an insecticide would be needed. It's hard to get most farmers to spend money when harvest is "so close."
Kneubuhler: If you had stinkbug issues in 2018, I'd be aware of them for 2019. Their life cycle is a metamorphosis that goes through egg, nymph and adult stages. They overwinter as nymphs or adults. The southern half of Indiana will have a higher likelihood of overwintering. Generally, extreme northern Indiana will only have one life cycle per year, while central to southern Indiana can have two to four life cycles. Insecticides are rather effective and highly suggested.
Stein: Stinkbugs can injure soybeans by using their piercing-sucking mouthparts to inject digestive enzymes into the plant and extract predigested plant fluids. This can occur on stems, foliage and blooms, but most damage happens from beginning of pod establishment through seed fill, as they feed directly on pods and seeds. Not only do these feeding wounds provide access for plant pathogens, but they also can result in yield and quality losses from shriveled, deformed, discolored and aborted seed, as well as seed with reduced oil content.
Stinkbug feeding on seed beans can result in germination problems. Feeding can also result in green stem syndrome, where plant maturity is delayed. There will be irregular patches in the field remaining green, with relatively few pods that are small and shriveled, while the rest of the field matures normally.
Stinkbugs overwinter in crop residue. Increases in population can occur in cropping systems that use no-till or cover crops.
Scouting for stinkbugs should be part of any good integrated pest management program for soybeans, and should begin when plants begin to bloom (R1) and continue through maturity (R7). Initial outbreaks usually occur on field edges first. Concentrate there to identify potential infestations early and intensify scouting into the field as necessary.
Check at least five different areas of the field. Inspect individual plants or use a sweep net. A generally accepted threshold for commercial soybeans is one stinkbug per foot of row, or 40 stinkbugs per 100 sweeps when pods are still green. For seed beans, the threshold is one-half stinkbug per foot of row, or 20 stinkbugs per 100 sweeps when pods are still green.
Most insecticides labeled for stinkbug control on soybeans will provide adequate control.