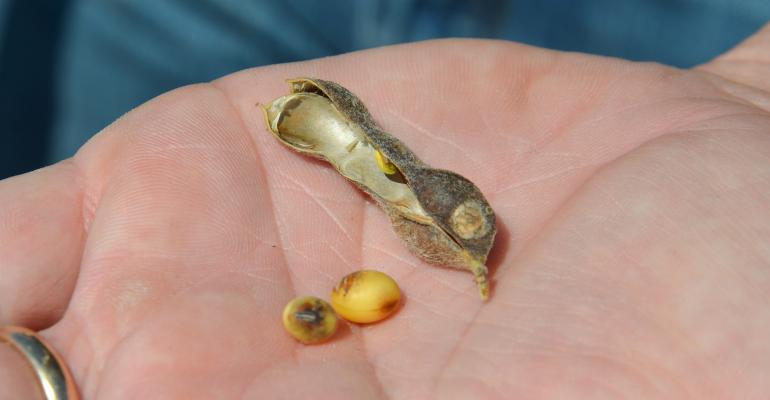 Soybean Corner: If you apply fungicides, time them around R3 stage, unless the disease dictates otherwise.
May 28, 2019
I have never applied fungicide on soybeans but am thinking about it because pod and stem blight was so widespread in 2018. If so, how do I time it? What tips should I follow to get the most return on investment?
The Indiana certified crop advisers answering this question include Jamie Bultemeier, A&L Great Lakes Labs, Fort Wayne; Troy Jenkins, agronomist with Ceres Solutions, Rochester; and Marty Park, Great Lakes Seed Service, Rensselaer.
Bultemeier: When you read through the variety of late-season disease control recommendations, the recommended fungicide application timing is centered around R3. Research has often shown the greatest benefit from a foliar fungicide when it is applied at R3. The R3 stage is marked with a plant having a quarter-inch-long pod at one of the top four nodes of the plant. While there will be a variation in growth stage between plants, early R3 is best.
Make sure to follow the manufacturer's recommendations for carrier volume and droplet size. Good coverage and canopy penetration will help increase the performance of the fungicide. In many cases, a medium-size droplet with 15 to 20 gallons per acre of water as a carrier works well. A multi-angle spray tip can also help increase coverage and canopy penetration.
Jenkins: Pod and stem blight infects soybeans early in the season but is not seen till late season. The disease inoculum is splashed from the soil from past plant residue, or transmitted by infected soybean seed. The fungus infects soybeans late in the reproductive period at the R5 to R6 stages by colonizing in the seed during warm, wet periods. As soybean seed loses moisture, colonization declines. Only infection initiated in the pod can infect seed and cause decay.
Highly resistant varieties are the best means of protection from pod and stem blight. If one chooses to apply fungicide to reduce the incidence of stem and seed infection, it should be applied between the R3 and R5 growth stages. There is no guarantee this application will reduce yield loss. Be aware that other diseases can look like pod and stem blight.
Park: Fungicide applications to soybeans are normally targeted at the R2 to R3 stage of growth, unless the target is white mold. Then you start at the R1 stage. I would use a fungicide that has at least two different modes of action. It should have both a preventative and curative component. Be sure to leave a check strip so you can compare treated soybeans where you applied fungicide to untreated strips where you didn't apply fungicide in the fall.
In 2018, the late-season wet weather combined with the late harvest allowed pod and stem blight to become more of a problem than normal. Fungicides have activity on pod and stem blight, frogeye leaf spot and several other diseases. Many fungicide manufacturers claim "plant health benefits" that lead to yield increases as well.