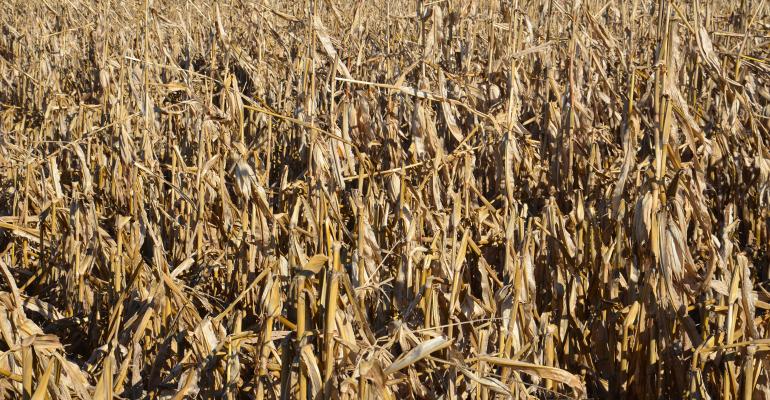 Corn Corner: Weigh field drying vs. harvesting decision carefully.
Sep 04, 2019
It appears all our corn will reach black layer before frost. However, it's going to be wet. How long can I afford to let it dry in the field versus harvesting at 24% to 28% moisture? What are the agronomic considerations? What about the economics?
The Indiana certified crop adviser panel answering this question includes Betsy Bower, Ceres Solutions, Terre Haute; Traci Bultemeier, Corteva/Pioneer, Fort Wayne; and Dan Ritter, Dairyland Seed, Wabash.
Bower: Typically, growers who let corn dry in the field are those that don't have a grain drying facility, or at least, not an efficient one. This may be the season, however, to harvest corn sooner rather than later. Field-drying of corn kernels after black layer is typically faster in September than October, and is usually nil in November with a typical fall. Yet we know that we can still have good drying weather into October and even November sometimes, but we won't know until it gets here.
Agronomically, the biggest concern includes stalk integrity and health. Will the stalk stay intact long enough for corn kernel moisture to reduce to an acceptable level before it lodges? This year we have found a lot of physoderma, a disease that may not affect yield but can affect stalk integrity and support severe stalk lodging. The 2018 harvest was plagued with strong winds followed by lodged corn that was slow and difficult to harvest. Customers noted several bushels of yield loss just due to not being able to harvest all the corn that was there.
Any big rains later into harvest can lead to a further delayed harvest due to slower time for soils to dry if soil compaction is a concern.
Economically, it's often better to harvest a little on the wetter side and allow a dryer to reduce moisture gradually since drying in the field with repeated ear wetting and drying cycles after can lead to what's called phantom yield loss. It's associated with loss of dry matter from the corn kernel. Customers I work with have indicated a 10- to 20-bushel-per-acre overall yield loss in the same cornfield from start of harvest to end of harvest as they let corn dry in the field.
Bultemeier: Agronomic considerations should come first. Corn must have good standability and be able to be harvested at Christmas. Otherwise, if it falls over and it can't be harvested, there's no point in worrying about drying costs, right? Close monitoring of weather events, stalk diseases and overall plant health, along with ear placement on the stalk, will help establish a prioritization of which fields to harvest first and which can stand until January, if needed.
Sometimes the best logistics of hauling and moving equipment from field to field go out the window because the two fields that have top prioritization of harvest might be the two farthest fields apart.
The economics of drying will depend on how well you can purchase dryer fuel and what the commodity price of corn does at harvest. It also depends on if each field hits black layer before a killing frost. If I could predict all that, I wouldn't be writing this article; I'd be on a beach somewhere, retired!
Ritter: My short answer: Remember the fall of 2018? Personally, I would get it under roof as soon as possible. Weather can change in an instant, and then field losses can well outweigh the cost of drying. From an agronomic standpoint, the ideal harvest moisture is that 24% to 25% range. Then consider "phantom" or mystery yield loss from field drying. Some university studies have suggested yield losses up to 1.6% per point of moisture due to field drying. This still is debatable, as there tends to be varying information. That said, I've heard testimonials of 20-plus bushels per acre of loss from field drying.
Some other points to consider are drying efficiency of your system, fuel source and commercial drying versus your own system. There are several online worksheets to help you run the economics. I strongly suggest you input your own data and determine a cost for drying on your farm.