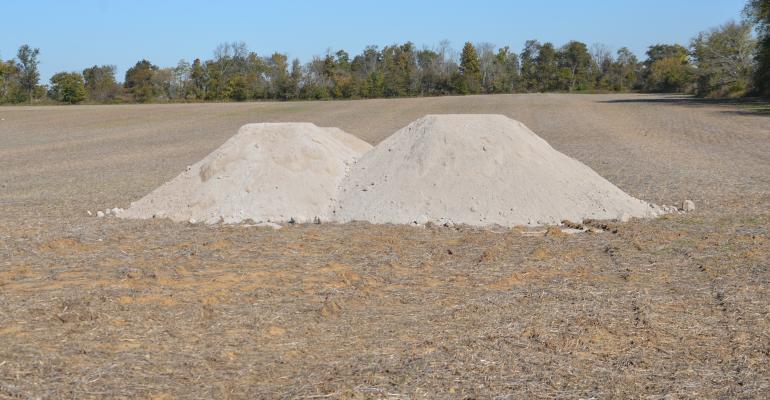 Soybean Corner: If you couldn't sample last fall, what do you do now?
Oct 03, 2019
We soil-test using a CCA on a four-year rotation. Some fields didn't get sampled last fall. It's now been five years since a sample. It's not a year I want to spend extra money. These fields are going to soybeans. How do I get back on track with the rotation without spending lots of extra money on soil sampling this fall?
The panel of Indiana certified crop advisers answering this question includes Betsy Bower, Ceres Solutions, Terre Haute; Traci Bultemeier, Corteva/Pioneer, Fort Wayne; and Dan Ritter, Dairyland Seed, Wabash.
Bower: I would look over your previous soil test results and pick out some areas of fields that had soil pH levels in the lower 6.0-to-6.3 range five years ago. I would soil-test those areas to see if the soil pH is low enough to trigger a lime recommendation. If so, see if your CCA can develop a recommendation for those areas. If pH isn't too low, wait another year to do a thorough soil test to get back on track. Remember, soybeans are typically more sensitive to low soil pH than corn.
Soil testing is an investment that keeps your nutrition and lime on track to pay you back in yield and soil function. Several soil residual herbicides work better with ideal soil pH, as well as rhizobia bacteria that are critical to nodule formation on soybean roots. When you consider cost of crop nutrition and lime you would apply based on that recommendation, soil testing cost is just a small part of the total crop nutrition investment. You want it to be correct. Your investment before last year's crop was less since you didn't get it sampled last year. Soil testing shouldn't be considered an extra cost but part of the total nutrition investment.
You could consider soil testing those few fields anyway and then soil sampling again in three years to get back on track in your rotation. If most of the field is sandy but for some reason was too wet last fall to sample, I would sample this year. Soil nutrition and lime can change more quickly in sandy soils than heavier soils. Getting soil chemistry in these fields correct is critical to allow them to function as well as possible in stressful conditions.
Bultemeier: Spend the money. Fields that are properly and regularly soil-sampled pay back dividends compared to fields left unchecked or which aren't sampled properly. Consider moving those fields to a spring soil sampling rotation. This means, though, that the results will be different than your fall trends. If you switch, those fields should stay on a spring rotation in order to establish a trend line.
Ritter: I assume you've been doing this rotation of soil sampling using a crop professional for some time. To me this indicates you should have a solid record of crop removal and maintenance. If that data has been serving you well, use it for now. You should be able to track your soil depletion based on history. Resume your normal sampling rotation starting with fields you missed last year. That said, don't try to save dollars by cheating the soybeans on what they may need to have a successful crop. So, continue to fertilize the bean crop using existing information.