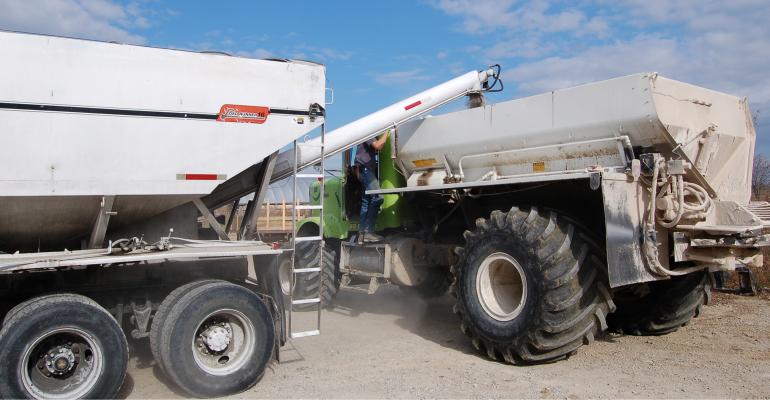 Soybean Corner: Here is advice for applying P and K postharvest.
Oct 30, 2019
Corn harvest ran late, but I still want to apply phosphorus and potassium for soybeans before spring, if possible. When is it OK to apply? Are there rules in Indiana about applying fertilizer on frozen soils? Are there fields to avoid?
The panel of Indiana certified crop advisers answering this question includes Steve Gauck, Beck's sales agronomist, Greenburg; Andy Like, Syngenta, Vincennes; and Jeff Nagel, Ceres Solutions agronomist, Lafayette.
Gauck: There is still plenty of time to apply fertilizer before soybeans. Many agronomists now recommend spring-applied nutrients. The
Office of Indiana State Chemist
regulates when and how nutrients can be applied. Its website has application restrictions that say you can't apply to saturated ground, but you can apply inorganic fertilizer to frozen ground. The biggest challenge to applying on frozen ground is the concern of a heavy rain shortly after application that could move nutrients.
In an ideal world, we would wait and apply fertilizer right before planting, when soils are dry and warming. If that isn't possible, avoid applying nutrients on frozen ground in fields that have lots of slope where nutrients could move from the field.
Like: Assuming the P and K you want to apply is inorganic, such as DAP and potash, you can apply anytime you want if it isn't applied on standing water or on saturated ground. Application on frozen ground is permitted, although it may not be a best practice. I would avoid fields with a high potential for P and K to run off and enter a stream or creek.
If your P and K is applied as manure, different rules apply. Those can be found at
oisc.purdue.edu
.
Nagel: In short, apply anytime ground conditions are fit and runoff potential is minimal. Essentially, for inorganic fertilizers such as 11-52-0 (MAP), 18-46-0 (DAP) or 0-0-60 (potash), you can apply anytime ground conditions are suitable for application equipment. Applications can be made to frozen ground, but potential runoff could occur if made prior to a significant rainfall event. The following are a few guidelines for dry fertilizer applications:
MAP and DAP. These contain nitrogen and phosphorus. If incorporated after application or surface-applied to a cover crop, off-target movement should be minimal. While applications can be made to frozen ground or lightly snow-covered ground, attention should be given to the forecast. Applications should be delayed or avoided if rainfall events are forecast before fertilizer has enough time to move into the soil. Fertilizer lying on the surface will move across the landscape on frozen ground with a rain and could end up in streams and rivers.
Potash. Applications can be made almost anytime, but applications made on low cation-exchange capacity soils — of less than 6 or so milliequivalents per 100 grams — should be made in spring, closer to planting. While potassium is positively charged, leaching below the root zone can occur on low CEC soils with large rains.
Sulfur. There has been more interest in applying sulfur on soybeans using 21-0-0-24S, which is ammonium sulfate. This should only be done closer to planting, as sulfate sulfur is negatively charged, like nitrate nitrogen, and can move below the rooting zone.
Manure. There are rules regarding applications of manure to frozen surface soils. Check the Office of Indiana State Chemist website under the Fertilizer section.