Indiana CCA Conference 2018 Presentation
Presentations
T4
Pest Management
Tue, Dec 18, 2018
4:00pm to 4:50pm
T11
Pest Management
Tue, Dec 18, 2018
11:00am to 11:50am
Vole Ecology and Management in Cover Crop Systems
Voles, or "field mice" as they are often referred to, can cause damage in many annual or perennial crops, including corn, soybeans, alfalfa, vineyards, and tree plantations. Voles are often found living around crop fields in permanent vegetation and are generally not a major concern in conventional agriculture. However, with increases in no-till agricultural and the utilization of cover crops in corn and soybean rotations, issues with voles are becoming increasing common. Understanding vole ecology and their habitat is essential to their proper and successful management. This presentation will walk you through important information about vole ecology and management (using an integrated pest management approach), with an emphasis on managing voles in conjunction with common soil health practices.
Speaker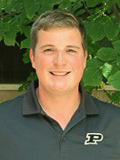 Jarred Brooke
Extension Wildlife Specialist
Purdue University
Biography
Jarred Brooke is an Extension Wildlife Specialist in the Department of Forestry and Natural Resources at Purdue University. He earned his B.S. in Wildlife Science from Purdue University in 2012 and his M.S. in Wildlife Management from University of Tennessee in 2015. Jarred's background includes extension and research activities related to applied habitat management for games species including northern bobwhite, eastern wild turkey, and white-tailed deer and work with private landowners interested in habitat management opportunities through USDA Farm Bill programs (CRP, EQIP, and WRE). His extension programming and research activities at Purdue will focus on habitat management for game species including the use of herbicide and prescribed fire to manage early successional vegetation communities and hardwood savannas, woodlands, and forests. His teaching activities will be focused on the role of hunting in wildlife conservation.