Why this CCA promotes proper crop nutrient management
Meet an Indiana pioneer in the 4R nutrient approach.
Tom J Bechman | Mar 09, 2022
The Rossville, Ind., location of Crop Fertility Specialists completed the Indiana 4R Nutrient Stewardship Certification Program in November 2020. Even if you don't know what that means or why it matters, it would only take a short conversation with Rod Miller, manager of the CFS facility, for you to know that this retail dealership is a leader in promoting the correct, careful use of nutrients to protect the environment.
"We were one of a handful of dealerships operated by key businesses and co-ops around Indiana which piloted the 4R certification program," Miller says. "We did it because it was not only the right thing to do for today, but the right thing to do for tomorrow."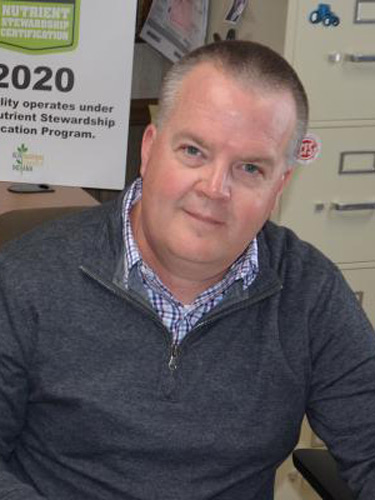 Rodney Miller - 2021 CCA of the Year
Miller is an Indiana certified crop adviser, earning his CCA title in 1999. He believes participating in the 4R program sends a message to other CCAs too.
"Our job as a CCA is to be an agricultural leader and promote the wise use of nutrients and pesticides to our peers," Miller says. "Most things covered in the 4R programare practices we will eventually have to do. In fact, most retailers, CCAs and farmers probably do 80% of the practices we're audited on already.
"Today, we have the choice to do these things voluntarily. If we don't do our part now to improve water quality, eventually we will likely have to do these things through government regulation. I would must rather see us do it voluntarily."
The Rossville CFS is one of eight CFS dealerships owned by Kova Ag Products, Greensburg, Ind., since 2014. Miller was recently honored as Indiana's Outstanding CCA of the Year. The award is sponsored by Indiana Farm Bureau Inc.
Developing 4R program
Besides managing his location and helping farmers develop cropping plans, Miller participated in the Agribusiness Council of Indiana for a long time. He served on the steering committee that set up the guidelines for the Indiana 4R Nutrient Stewardship Certification Program. Ohio also has a 4R program, but it is not directly connected to the Indiana effort. The four R's for which the program is named are right source, right placement, right rate and right time.
The Indiana Agriculture Nutrient Alliance, which formed just a few years ago, also promotes the 4R program. Miller notes that the program is growing slowly, but he believes it is on the right track.
"It's an education process for everyone," he says. "Our employees and the farmers we serve are learning as we learn. When we stick to practices like not applying fertilizer on frozen ground, they ask questions and learn from the explanation.
"The whole effort is geared to making us more sustainable in agriculture. We must follow the best management practices to do that in our business, and as farmers learn about it, they will as well."
To learn more about the Indiana 4R Nutrient Stewardship Certification Program and the impact it could have,
read this related story.