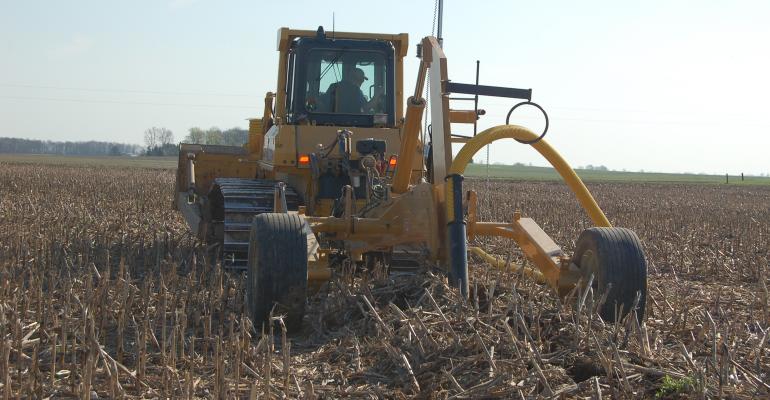 Corn Corner: Some landowners can be hard to convince, even after a year when yield loss in wet areas was sizable.
Sep 04, 2018
My yield maps show definite yield loss up to 30 bushels per acre in wet spots that were in corn in 2018. We caught heavy June rains. Can you help me put a budget together to convince my landlord that pattern tiling will pay on a 50-acre field? About 15 acres were hurt the worst. The rest of the field was hurt maybe half that much.
The Indiana certified crop advisers answering this question include Betsy Bower, Ceres Solutions Cooperative, Lafayette; Steve Gauck, Beck's sales agronomist, Greensburg; and Dan Ritter, agronomist with Dairyland Seed, Wabash.
Bower: Of course, you'll need to understand the cost of consultation, installation and of the tile itself. You would need to understand just how much tile it will take to solve the problem. Do you just need a few key strings to drain the key field areas, or would it be better to pattern tile?
On the flip side, while you know how much yield was lost this year in the wet spot, how has the wet spot affected yield every year?
Not only are you losing yield due to wet soils, you're likely losing valuable nitrogen due to denitrification that can occur in waterlogged soils. You also likely have extra weed pressure due to reduced corn competitiveness from wet soil. You likely increase the seeding rate in the wet soil to compensate for poor emergence. Improved soil fertility to crops, improved competitiveness of crops versus weeds and potentially reduced seeding rates could help support the installation of tile. You will also unlock some unused nutrition from previously poor-yielding crops in the wet area.
Gauck: Many landlords are difficult to convince that paying for tile is beneficial. You rented the ground, and they feel you're responsible for your yields. Yet some want to improve their farm and are willing to help. Based on your numbers and $3.50-per-bushel corn, a rough estimate is that you could be losing about $65 to $68 per acre in yield overall. Are you willing to increase your cash rent to help make this investment for your landlord pay off?
Many of us know that tile can greatly improve a wet farm more than just the bushels you think you've lost. Is it profitable for you to put in the tile, and ask for a long-term lease with a small rent increase over time and a buyout option, so you both take some risk?
Ritter: You have 15 acres with a loss of 30 bushels per acre and 35 acres with a 15-bushel-per-acre loss. That's about 975 bushels lost. If this is a typical loss, simply multiply that by your estimated average corn price for the expected period for payoff. Then multiply that amount by the expected payoff period. Multiplying 975 bushels by $4, estimating corn to average $4 per bushel over the next 10 years, is $3,900. We think it will pay back in 10 years, so that's $39,000 if every year is like 2018.
What's forgotten at times is increased value of a tiled farm and the impact on crop insurance and Farm Service Agency yields used to calculate benefits.
Editor's note: If it costs $750 to install tile, pattern tiling 50 acres would cost $37,500, which lends support to Ritter's rough estimate of a 10-year payoff.