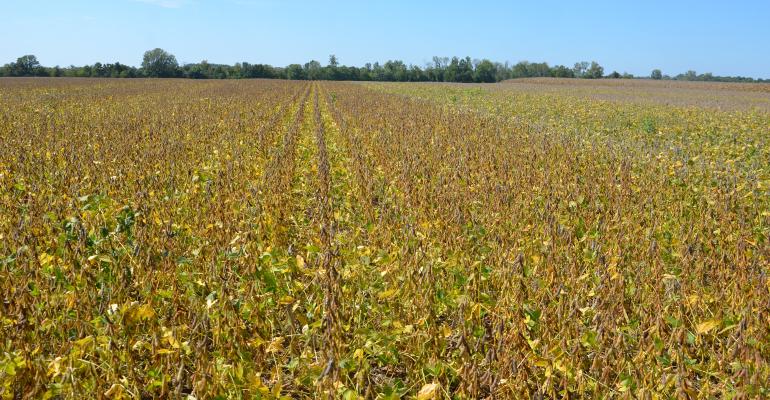 Soybean Corner: Can you plant shorter-season varieties for your area and still get good yields?
Dec 31, 2018
One company is hounding me to buy soybean seed, but their longest maturity is a Group 3.2. Our best yields have come from the 3.5 to 3.7 maturity range. Seed cost would be cheaper with the 3.2. Is it worth the risk?
The Indiana certified crop advisers panel answering this question includes Andy Like, Syngenta sales rep, Vincennes; Jeff Nagel, agronomist with Ceres Solutions LLP, Lafayette; and Darrell Shemwell, agronomist with Posey County Co-op, Poseyville.
Like: It's not worth the risk if that's the only maturity group you will plant. Overloading your soybean acres with one maturity group puts you at risk with weather patterns that are out of your control. Many times, late rains benefit longer-season soybeans more than short-season soybeans. In a nutshell, going heavy on those 3.2s could work out well, but it's a poor risk management strategy over time.
Nagel: Since variety selection is one of the most important decisions made when growing soybeans, I would look for a range of maturities that are high-yielding with a disease package needed. The combination of improved genetic yield potential, timely planting and management has demonstrated that high yields can be achieved if the weather cooperates across a range of maturities.
Spreading out maturity ranges helps reduce the risk of untimely weather stress, as many farm operations can plant a high percentage of their acres in a shorter amount of time. We have seen years where earlier-maturity varieties outyield mid- to full-season varieties, and years where the opposite occurs.
Planting and harvest strategy plays into many farm operation decisions. Many like to include some earlier varieties in their operation so harvest can start in September, when conditions are generally more favorable for soybean harvest.
Shemwell: In southern Indiana where I'm located, I've seen changes in the soybean varieties and maturity groups that we're planting over the last 10 years. In the past, we planted mostly Group 4 maturity soybeans, thinking that was where we were getting our best yields. Plus, they would be ready to harvest about the time we would finish shelling corn. Along with planting later-maturing varieties, we were planting at higher seeding rates of no less than 165,000 to 170,000 seeds per acre.
Presently, most soybeans we're planting are mid- to late Group 3 soybeans in the 3.5 to 3.9 maturity range. These have been our highest-yielding soybeans, and some growers have been planting at 120,000 seeds per acre in April. We've had to change our mindsets from what we have done in the past.
This year we're going to try some new 2.9 maturity soybeans in a few areas to help spread out our workload at harvest. We'll probably harvest those soybeans before we begin shelling corn. If your best yields have been coming from the 3.5-to-3.7 maturity range, that is what I would continue to plant most of my acres to. If you can get some good, sound data on the earlier-maturing varieties and they will work in your program, conduct your own small-scale research and collect data.
Seed cost shouldn't come into play when making your variety selection. Select the variety that you feel will produce your highest economical yield and will stand. The old saying "you get what you pay for" is correct most of the time.