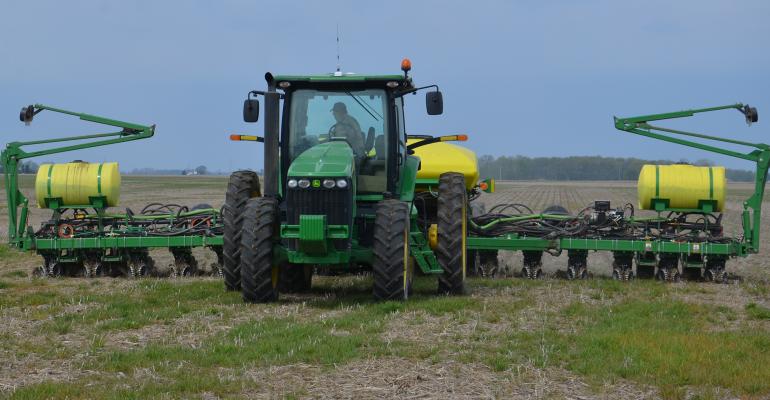 Corn Corner: Could leaving off starter fertilizer be a way to save money this year?
Jan 30, 2019
We apply 10-34-0 as liquid 2-by-2 starter fertilizer for corn. We're in minimal tillage. For planting in early May and after, I'm thinking of leaving it off to save money. Results I see don't show much yield increase for starter. With the corn price being low, I don't think it will pay this year. What would you do?
The Indiana certified crop adviser panel answering this question includes: Gene Flaningam, Flaningam Ag Consulting LLC, Vincennes; Greg Kneubuhler, G&K Concepts, Harlan; and Tom Stein, manager of the Boswell and Templeton branches for Ceres Solutions Cooperative.
Flaningam: The May planting period should provide warmer soil temperatures, thus giving less response to starter fertilizer. Make sure to review your soil test values for phosphorus. Those lower-testing phosphate soils will show a better response to starter fertilizer. You don't want to limit your maximum yield potential. If weather conditions are cooler than normal during planting, continue to use your starter fertilizer program.
Kneubuhler: We are big proponents of starter fertilizer. As planters get bigger, we realize that logistically, the desire to take off or reduce starter usage happens. However, we continue to see yield response to starter fertilizer. If you don't think you see response to starter, I'd highly recommend leaving some passes without it to be sure.
I will say that the majority of starter response tends to come from the nitrogen component. I would favor the use of 10-34-0 in early planting situations, especially in minimal tillage. Phosphorus becomes tied up in cold soils, and having some 10-34-0 there can compensate for it. To save money, I could support removing 10-34-0 and running liquid nitrogen only as planting dates get later and soil temperatures are warmer. If you're adamant about running no starter, I'd highly recommend your nitrogen program includes at least half the nitrogen upfront, as to not run your corn out of N early in its vegetative stages.
Stein: If your phosphorus soil test levels are good, which means well above the critical level of 15 parts per million or 30 pounds per acre, and you historically have not been realizing enough of a yield increase from using starter fertilizer to give you a positive return on investment, I would leave it off.