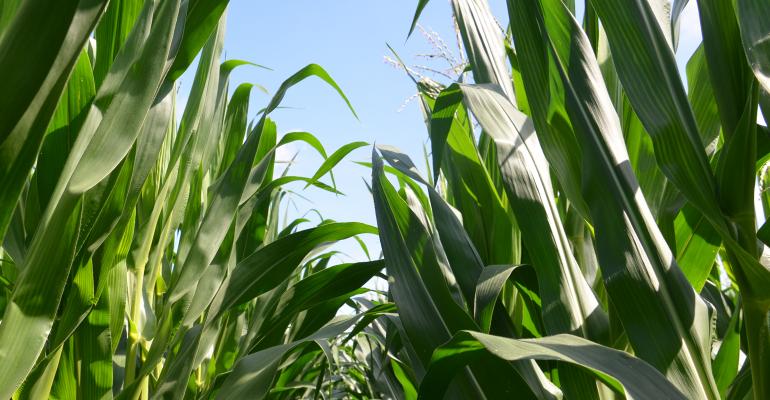 Corn Corner: Tissue tests are a snapshot, not a season-long guide.
May 30, 2019
We've applied 185 pounds of nitrogen per acre. Our agronomist says tissue samples on a couple of fields indicate nitrogen might be borderline. Is it worth investing in a late-season N application? If so, how much per acre?
The Indiana certified crop advisers answering this question include Jamie Bultemeier, A&L Great Lakes Labs, Fort Wayne; Troy Jenkins, agronomist with Ceres Solutions, Rochester; and Marty Park, Great Lakes Seed Service, Rensselaer.
Bultemeier: First, make sure the field needs more nitrogen. Most nitrogen is taken up via mass flow. Nitrogen is dissolved in soil solution. As the plant takes up water, it takes up nitrogen. Dry soils lacking soil moisture can reduce nitrogen availability to the plant. While the tissue test validates plants may not be accessing nitrogen, it doesn't identify why, nor what remains in the soil.
Soil samples 12 inches deep should be analyzed for nitrate nitrogen. Multiply the result in parts per million by 4 for an estimation of pounds of nitrogen remaining. If corn is tasseling, it has already taken up approximately 60% to 65% of the nitrogen it needs. If the season-long nitrogen program was 185 pounds of N per acre, and soil tests estimate that more than 65 pounds remain, adding extra nitrogen isn't justifiable. If soil tests indicate a shortfall in available nitrogen, target the shortfall as the application target.
Jenkins: Tissue tests are great for helping understand how the plant is doing with nutrient levels but sometimes leave us scratching our heads as to why they look the way they do. Evaluate the weather and ask if the potential for severe nitrogen loss has occurred. Utilizing soil nitrogen tests, both NH4 and NO3, can help determine what's in the soil. From here, plan on additional nitrogen applications based on corn stage of growth, or investigate why the corn crop isn't taking up nitrogen seen in the soil N test. Digging plants and examining roots for disease, insect-feeding and soil-related issues might reveal answers.
Park: Remember that tissue sample results are a specific snapshot in time. So, you might want to pull additional samples in these two fields to confirm levels, if you can get results quickly. Are there any logical reasons for these fields to show up borderline? Are there reasons for more nitrogen loss in these two fields due to application timing or excess rainfall, or are the soils different? Scout these fields to see what the yield potential looks like and what stage of growth they're in before you invest more money. I'm more willing to make this application if the corn is in the vegetative stage of growth versus further along.
If growth stage is right, yield potential is there and you believe levels are truly borderline, it comes down to economics and risk. How much is the treatment going to cost? How many bushels do you need to break even? If I'm going to make the trip, I would go with at least 30 pounds of nitrogen. Remember, you're going to need rainfall to get that nitrogen into the root zone. If nitrogen is 50 cents per unit and application cost is $10 per acre, the cost of applying 30 pounds of nitrogen would be $25 per acre. Breakeven would be a little over 7 bushels of corn at $3.50 per bushel. If you do it, leave a check strip to see if you made the right economic decision.