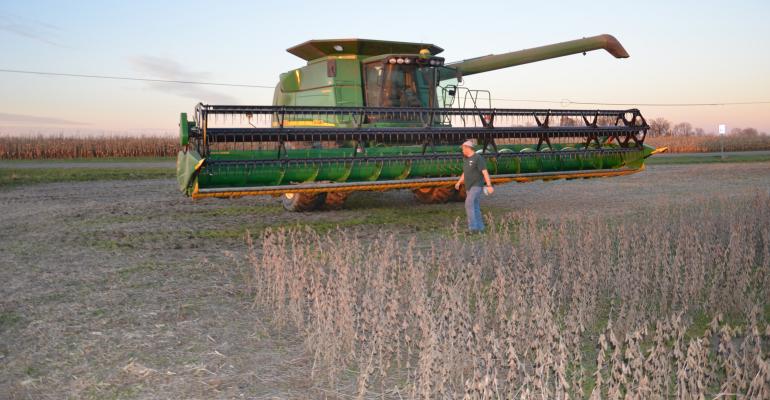 Soybean Corner: This won't be a "set the combine once and drive" harvest.
Sep 02, 2019
How can I reduce harvest losses for late-planted soybeans? I fear they're going to be shorter than normal. Some say it will be like harvesting double-crop soybeans.
The Indiana certified crop adviser panel answering this question includes Betsy Bower, Ceres Solutions, Terre Haute; Traci Bultemeier, Corteva/Pioneer, Fort Wayne; and Dan Ritter, Dairyland Seed, Wabash.
Bower: Soybean harvest will be a challenge for several producers this fall. Information from several sources I consulted indicated 80% of harvest losses occur while cutting and gathering plants into the combine, mostly due to shattering. These suggestions came from Michigan State University:
First, maintain ground speed at 3 miles an hour — higher speeds are reported to be possible with draper heads or when air is added to the head
Next, set speed of the reel to run 25% faster than ground speed. If beans are lodged, increase the reel speed to 50% faster than ground speed.
Position the reel axle 6 to 12 inches ahead of the cutter bar. Ideally, the reel should leave the beans just as they're cut. Set the height of the reel just low enough to control the beans. In lodged conditions, operate the reel as low as necessary to pick up plants.
These suggestions can help, but be sure to consult your owner's manual.
Other suggestions to reduce harvest losses include starting harvest as close to 13% to 15% moisture as you can. This is about five to 10 days after 95% of the pods have reached mature color. This year will be particularly challenging where we have multiple planting dates and varying variety maturity.
Also, operate the cutter bar as low as possible, but know where your problem areas are for rocks and obstacles.
Keep knife sections sharp, and make sure guards, wear plates and clips are in good condition and properly adjusted
Finish harvest as quickly as Mother Nature allows. If beans are 13% or less, take advantage of damp pod conditions as much as you can.
Bultemeier: First, factor in what growth stage soybeans are at if/when a killing frost hits. If beans are in the "lima bean" stage, R6 up to R6.5, yield losses can vary from 10% to 35% due to shriveled beans and thus loss of test weight. The drying rate will be slowed. It's important to wait at least two days to assess any frost damage.
Once we get past the first freeze and have physiologically mature beans, we face challenges with harvest, primarily at the header from shattering or field loss due to short beans. Run slower ground speeds, faster reel speed, and keep the reel set so that it leaves the beans just as they're being cut.
Paying close attention to rocks and other field obstructions will be high priority, as beans will pod close to the ground this year. Be willing to adjust cutter-bar height on the go.
Ritter: Timely harvest regardless of planting date is key. Too many times we leave beans in the field well past ideal harvest moisture. At lower harvest moistures, we lose weight from drier beans. We also increase harvest losses from shatter during harvest.
To fully address harvest loss on shorter beans, a discussion with your equipment dealer would be well warranted. I would expect them to understand how to best adjust your head and machine to pick up short beans.