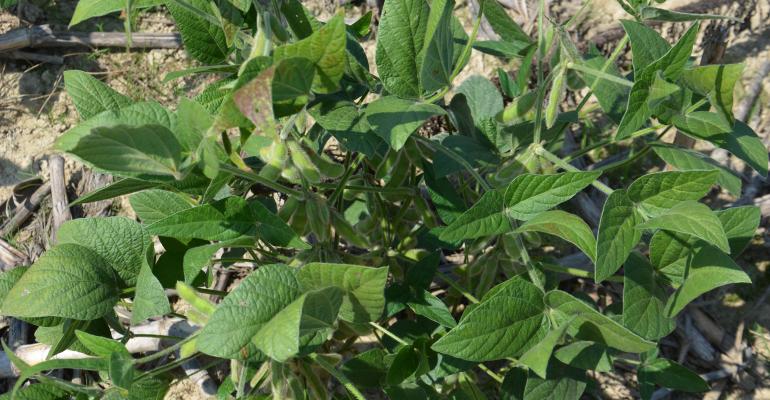 Soybean Corner: Experts say 140,000 seeds per acre would save costs and still leave a cushion for problems.
Dec 06, 2019
I've had a soybean seeding-rate trial on my farm for three years in cooperation with Purdue Extension. The stand of 100,000 plants per acre has been as good or better than 140,000 plants every time. I still plant 160,000 seeds per acre in 15-inch rows with a planter. Am I throwing money away staying at 160,000?
The panel of Indiana certified crop advisers answering this question includes Steve Gauck, Beck's sales agronomist, Greensburg; Andy Like, Syngenta, Vincennes; and Jeff Nagel, Ceres Solutions agronomist, Lafayette.
Gauck: Many people are nervous about dropping soybean populations, mainly because we're comfortable seeing soybeans planted thick. Many studies consistently show that lowering soybean population is more profitable. If you've proved lower seeding rates work on your farm, it's time to start lowering them.
First, make sure your soybean planter is prepared. Success at lower seeding rates comes from planting deeper, in many cases 1.5 inches. This puts the seed into consistent moisture and temperature to ensure better emergence. Aftermarket closing wheels will help prevent crusting.
If you want to gradually lower rates, plant 145,000, with some fields closer to 130,000 this year. Use seed treatments to give you better emergence and plant health.
The other key is patience. If you plant deeper at a thinner population, it will take longer for the stand to emerge and canopy. According to Purdue University studies, an 80,000-plant stand that's even will still give us 100% yield potential!
Like: In most years, you're wasting money with extra seed above 100,000. However, in a year that challenges emergence, additional seed may prevent you from replanting. The correct seeding rate for you is going to be a function of your risk tolerance, time of year and variations of weather patterns for the particular year.
Nagel: Generally, research would suggest a harvest population of 100,000 to 120,000 is adequate to achieve near maximum yields. The exception might be environments with lower yield potential.
Seeding rates should be adjusted accordingly to achieve desired final stand. Assuming germination and emergence at 90% each, seeding rates of 130,000; 140,000; 150,000 and 160,000 would result in final stands of 105,300; 113,400; 121,500 and 129,600, respectively. All those seeding rates are essentially in the optimum range. With seed cost at $3.50 to $5 per 10,000 seeds, there is potential to save.
Poor emergence is often associated with soil crusting. If you reduce seeding rates by 30,000 to 130,000, you might save $10 to $15 per acre. But if you have crusting issues, emergence might to closer to 70% or 80%, with final stands of 80,000 to 90,000 plants per acre. You might have areas well below 80,000. Having an adequate stand to compete with late-emerging weeds such as waterhemp and Palmer amaranth is important. Rainfall and a thin plant canopy allow weeds to germinate, grow above the canopy and produce seed.
A good starting place would be 140,000 seeds per acre. Adjust higher for environments where emergence could be reduced. Very early planting, high-residue fields, cover crop fields and lower environment fields would be candidates for higher rates.