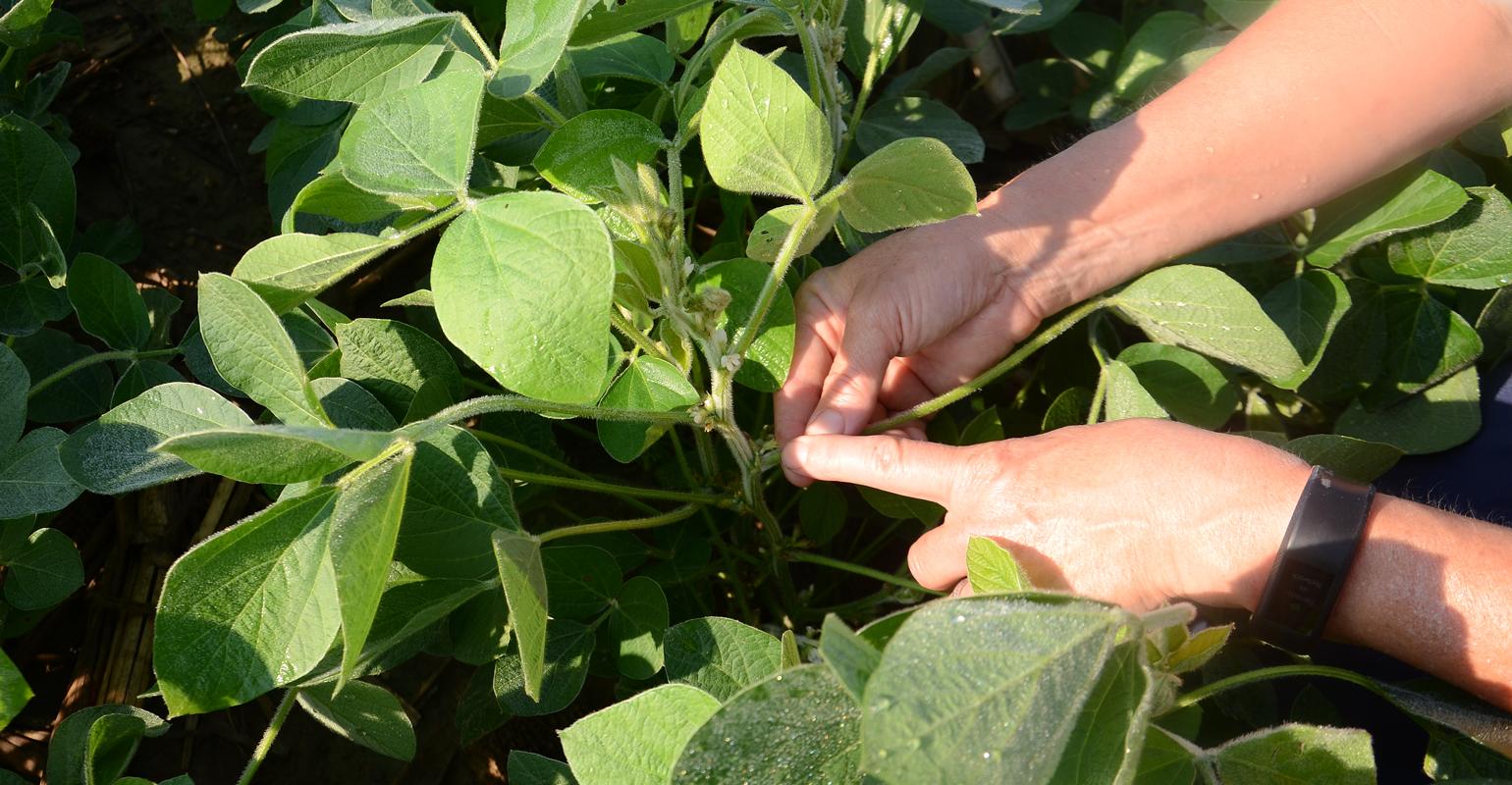 Soybean Corner: Here are tips that will help you get more bang for your fungicide buck.
May 27, 2021
I've decided to try fungicides on soybeans for the first time this year. How do I know which fungicide to try, and when should I apply it? How will I know if it helps?
The Indiana certified crop adviser panel answering this question includes Betsy Bower, Ceres Solutions, Lafayette; Jamie Bultemeier, agronomist, A&L Great Lakes Lab, Fort Wayne; and Andy Like, farmer and CCA, Vincennes.
Bower: Look to choose a fungicide product with mixed modes of action that will include at least a triazole and strobiluron. Some also include the new active ingredient SDHI. Choose one that has good activity on frogeye leaf spot.
There are three soybean stage timings that a lot of people discuss.
Each timing has its advantages and disadvantages.
If I were new to using a soybean fungicide, I would target the R3 stage, when pods just begin to form. At this stage, you get good coverage on most of the leaves in the canopy.
The R4 application is pretty late in the game but can be very effective if we are having a low disease year. For a first-time fungicide user, I think R2, full flowering, is too early to apply a fungicide.
The only way to know if a fungicide is improving yield is to include a check strip with no application in the field. Do not use end rows for your check strip, and be sure to make the width of the check strip at least the size of a combine header or a combine round.
When selecting fungicides, focus on products that provide control of the diseases you have encountered in past years when scouting your fields before and during grain fill. If that information is not available, look for a wide-spectrum product that offers more than one mode of action.
Bultemeier: Research shows that the greatest return on investment for a single application of fungicide results from a late R2 to early R3 application. Begin scouting soybean fields at least weekly starting at bloom. Focus on disease and insect pressure as well as growth stage to ensure optimum fungicide application timing. R3 is noted when there is a 3/16-inch pod on one of the upper four nodes. If diseases like white mold or frogeye leaf spot appear, you may need to treat before R3. If treatment occurs before R3, a second application may be needed later during grain fill. If you see significant soybean aphids, stinkbugs, bean leaf beetles or Japanese beetles, the addition of an insecticide to the application may be advisable.
Be sure to leave an untreated check so yield can be compared.
Continue to scout the field after application, focusing on the differences in disease pressure between the treated and untreated portions. For fungicides to provide a yield increase, there must be disease present for the fungicide to control. Compare yield side by side between treated and untreated in more than one area of the field.
Like: Typically, fungicide application around the R3 growth stage gives the best yield results. Knowing the best fungicide to use prior to the onset of disease can be difficult. In my experience, fungicides with two modes of action and high rating on frogeye leaf spot have worked well. Since it is your first year with soybean fungicides, I would leave a few check strips or split fields to determine performance of products.