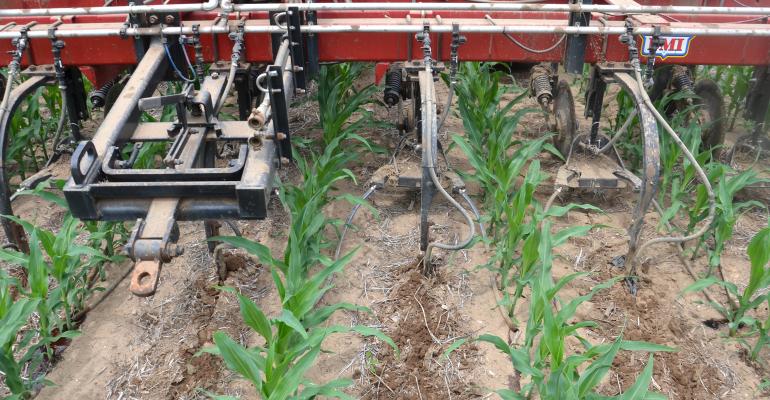 Corn Corner: Here are tips for managing high-priced nitrogen profitably.
Mar 11, 2022
We will have applied 150 pounds per acre of nitrogen by planting. We normally go 180 to 200 pounds. We will apply more if we get it. If so, how much more should we apply? When?
The Indiana certified crop adviser panel answering this question includes Gene Flaningam, Flaningam Ag Consulting LLC, Vincennes; Brian Mitchem, area manager for Nutrien Ag Solutions/Loveland Products, Decatur; Jeff Nagel, agronomist for Ceres Solutions, Lafayette; and Dan Quinn, Purdue Extension corn specialist.
Flaningam: Some hope nitrogen may "free up" later in the season. I suggest putting down a solid preemergence nitrogen program and then evaluating yield potential at V4 to V6. Sidedress may be justified if you have good uniform stands. Corn price will influence decisions. Adjust nitrogen rates according to these factors, plus soil productivity potential.
Mitchem: Your strategy of applying less N at any single application but making more applications of lower rates is very sound. Holding some N until you estimate yield potential is wise. Consider an N stabilizer to help protect the investment. Rate should be based on expected yield levels at application by field, with a total rate of 1 pound of applied N for every bushel of expected yield. With the rate you're applying upfront, the most beneficial timing would be late vegetative stage, about a week before tassel.
An advantage of in-season UAN applications is including other nutrients like boron, sulfur and a high-solubility potassium product near the row. I'm not a big fan of in-season soil-applied nutrients placed distant from plants. Use ear leaf tissue samples to determine nutrient needs.
Nagel: At least you have a good base rate down. Still, 150 pounds of N is below the economically optimum N rate for most soils given $5-plus corn and N at $1 per pound. How much more to add depends on soil types and location. An additional 15 to 40 pounds will still provide an economic return on N at these price and cost assumptions.
When to apply may depend on how you applied the first 150 pounds. If you didn't broadcast N, have some N in starter or broadcast N if you can't apply starter. If the first 150 pounds includes starter, sidedress the balance.
How efficient do you expect your first 150 pounds to be? Monitor N stress and be prepared to add more N if it's a wet season.
Quinn: The total amount of nitrogen fertilizer to apply using
Purdue University recommendations
depends on location, soil type, crop rotation, corn price and nitrogen price. Use the economic optimum nitrogen rate, which is defined as the fertilizer rate at which maximum dollar return is achieved, not maximum yield.
As nitrogen price increases and corn price decreases, the recommended rate decreases. For example, in central Indiana on a silt loam or silty clay loam, following soybeans, with a corn price of $5 per bushel and a nitrogen price of $1 per pound, the rate would be 178 pounds per acre. In northwest or southwest Indiana or on sandy, non-irrigated soils, the rate would be 159 pounds per acre.
The best time to apply nitrogen is right before peak plant uptake around V6, or at 18 inches tall. Nitrogen applied in the fall or early spring before planting raises risk of losses. The nitrogen rate should be raised if that's when N was applied.