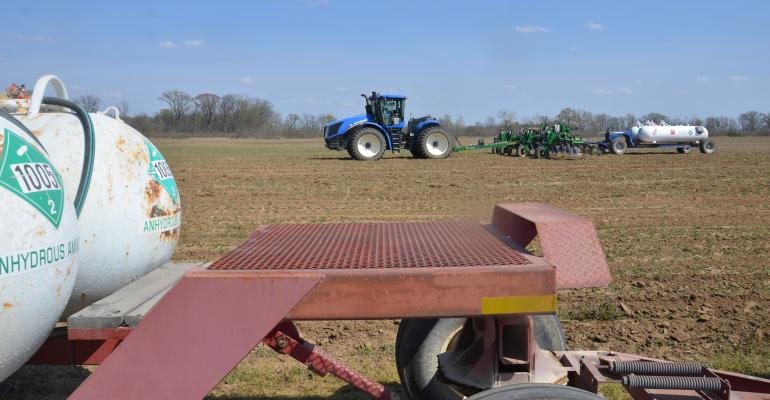 Corn Corner: Just because you can apply nitrogen in the fall doesn't make it the right decision.
Sep 26, 2022
We got bogged down applying nitrogen before planting. Can we go back to applying N this fall?
The Indiana certified crop adviser panelists answering this question include Steve Gauck, regional agronomy manager for Beck's, Greensburg; Andy Like, agronomist with AgriSelect Evansville LLC, Vincennes; Dan Quinn, Purdue Extension corn specialist, West Lafayette; and Dan Ritter, central region agronomist with Dairyland Seed, Rensselaer.
Gauck: If you are in an area where fall-applied nitrogen can be used and there is a price discount, it would be worth considering. To maximize yields, apply nitrogen closer to
when the crop needs it.
Nitrogen is food for the corn plant. Applying nitrogen in one shot would be like me asking you to eat one meal a day. Ideally, to gain the highest yields, apply nitrogen with the planter and then come back with an early sidedress application around V3. This will allow you to start planting early and not have to wait on nitrogen to be applied.
Like: Applying fall nitrogen in the southern half of Indiana is not advisable considering the rainfall and soil temperature we typically experience. Fall applications of nitrogen do occur in northern Indiana, but they are not without risk of N loss due to excessive rainfall or warmer-than-average winter temperatures.
It would be in your best interest, with current nitrogen prices, to find a way to apply the nitrogen in the spring, if possible. One possible solution is to apply your nitrogen sidedress after the corn is emerged, pushing your workload later in the season to hopefully spread it out and still get the crop planted in a timely manner.
Quinn: We typically do not recommend or encourage nitrogen applications in the fall due to the inability to predict weather conditions and the increased potential for significant fertilizer losses. However, if logistics and timeliness suggest a fall nitrogen application, there are a few things to consider to prevent potential losses. The nitrogen source to use for fall applications should be anhydrous ammonia, due to the stability of this fertilizer source and the fact that it can take the longest time to convert to nitrate. Nitrate is the form of nitrogen that can be lost through the soil profile due to leaching.
In addition, it is important to wait to apply nitrogen when the soil is cold enough. A rule of thumb is to wait until soil temperatures are consistently below 50 degrees F at a 4-inch depth. Typically, in the northern half of Indiana, this can occur from the last few weeks of October to the first few weeks of December. Furthermore, a nitrification inhibitor should also be used to help delay the conversion of ammonia to nitrate, thus reducing the potential loss of nitrogen from fall-applied fertilizer.
Ritter: Is it OK, sure. I would use a nitrogen stabilizer and not apply all your acres in the fall. Apply enough that it eases your load in the spring. Is it agronomically better in the spring? Most would say yes, it is preferred to have a spring application. However, if it is not practical for your operation, then find a solution that works for you. Delayed planting because you are applying N can have yield consequences as well.