Indiana CCA Conference 2018 Presentation
File
Presentations
T9
Crop Management
Tue, Dec 18, 2018
9:00am to 9:50am
T2
Crop Management
Tue, Dec 18, 2018
2:00pm to 2:50pm
Do We Really Need GMOs and Gene Editing Technologies?
Genetically modified organisms (GMOs) have been used in agriculture for more than 20 years. Although they are planted on millions of acres in the United States, they remain a controversial topic. New methods such as gene editing provide additional tools for genetic modification of crops. The goal of this presentation is to demystify the topic, explain how these methods are used in crop plants, and provide a balanced perspective on the issues that surround the use of GMOs and gene editing.
Speaker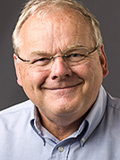 Peter Goldsbrough
Professor
Purdue University
Biography
Peter Goldsbrough was born and raised in Scotland. After completing his BS and PhD degrees in the United Kingdom, he came to Purdue University as a postdoctoral research scientist in 1982. He joined the faculty in 1984, first in the Department of Horticulture and Landscape Architecture and for the last 12 years in the Department of Botany and Plant Pathology. His background in genetics and molecular biology led to an interest in the application of biotechnology to agriculture. He has taught an undergraduate class on this topic for more than 20 years.