Indiana CCA Conference 2018 Presentation
Presentations
W10
Nutrient Management
Wed, Dec 19, 2018
10:00am to 10:50am
W3
Nutrient Management
Wed, Dec 19, 2018
3:00pm to 3:50pm
Soil Properties Influence the ROI and N Loss Associated With N Application Timing for Corn
Interest in improving nitrogen (N) use efficiency of corn production to increase farm profitability and reduce the deleterious effects of N on water quality has resulted in a greater focus on N application timing.
Two studies from 2014 to 2016 focused on N rate and timing. One study was conducted exclusively in Wisconsin while the other was conducted in eight Midwestern States.
Results. The Wisconsin study evaluated preplant, sidedress, 40 lb N/a preplant plus sidedress, preplant plus 40 lb N/a late (approximately 7 to 10 days prior to tassel), and 40 lb N/a preplant plus sidedress plus 40 lb N/a late on two silt loam soils, one well-drained and the other somewhat poorly drained. On the well-drained soil, N application timing did not affect yield at N applications near or greater than the economic optimum N rate and split applications resulted in lower return on investment (ROI) because of the added cost associated with multiple applications. In two of three years on the somewhat poorly drained soil, sidedress N application resulted in the greatest fertilizer N recovery efficiency because of early season N losses associated with preplant application. These sites demonstrate that late application of 40 lb N/a can be an effective rescue treatment, through sidressing had the greatest ROI.
In the Midwestern study at plant was compared to split (40 lb N/a at plant plus sidedress) N application. At the economic optimum N rate (EONR), we found more N remaining in the soil profile after corn harvest with split applications compared to at plant; however, there was not difference in N uptake in the above ground biomass at physiological maturity. These data suggest that some N will always be lost when producing corn, it's just a matter of when it will be lost – early or late in the season. When N applications were no more than 25 lb N/a over the EONR, the amount of N remaining in the soil after harvest was similar to when N was under applied by 50 lb N/a or more. These data suggest that profitable N application rates do not necessarily lead to greater potential for N loss to the environment. We found split applications tended to be more profitable on sandy soils and more poorly drained soils in years with excess precipitation. On poorly drained, but tiled, soils there was a greater ROI when N was applied at planting. In other situations, split applications did not always have a greater ROI.
Based on these studies we can conclude that soil properties should be considered when making decisions on N application timing. On coarse textured soils, split or in-season applications will reduce potential N loss and increase profitability. On medium- and fine-textured soils, soil drainage class and artificial drainage should be considered when making decisions on N application timing.
Speaker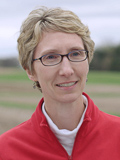 Carrie Laboski
Professor and Extension Soil Fertility/Nutrient Management Specialist
University of Wisconsin-Madison
Biography
Dr. Carrie Laboski is Professor of Soil Science and a Soil Fertility/Nutrient Management Extension Specialist at University of Wisconsin-Madison. Her current research includes nutrient use efficiency of nitrogen, phosphorus, and potassium from fertilizer and animal manure; soil fertility issues related to lime, secondary, and micronutrients; and evaluation of soil and plant diagnostic tests. Her extension activities include the development of tools to assist producers, ag professionals, and regulatory agencies in making decisions that help sustain economically and environmentally sound production of grain and forage crops in Wisconsin and the Upper Midwest. You can watch her soil fertility training videos on YouTube and read her blog NPK et cetera at www.NPKetc.info.