Indiana CCA Conference 2018 Presentation
Presentations
W10
Soil & Water
Wed, Dec 19, 2018
10:00am to 10:50am
W3
Soil & Water
Wed, Dec 19, 2018
3:00pm to 3:50pm
Getting the Most Out of Soil Survey: New Tools for Old Data
For the past 90 years, the USDA has been actively mapping the soils of the United States. The result of their efforts, The USDA –NRCS Soil Survey Database is the world's most complete soil map. The database contains data on the distribution and properties of soils with near complete coverage of the United States. The soil survey database can be a powerful tool for understanding and managing soils but only if used correctly. In this discussion, we will show how the history of soil survey imposes limitations on the use of soil survey data and demonstrate strategies to cope with these limitations. Additionally, we will demonstrate new tools for accessing soils data and discuss what advances we can expect in the next 90 years of soil survey.
Speaker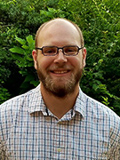 Jason Ackerson
Assistant Professor of Agronomy
Purdue University
Biography
Dr. Jason Ackerson is an Assistant professor at Purdue University. As a soils extension specialist, he has duties in both extension and research. His research and extension program focuses on applications of soil science to improve the capability of soils to support agricultural production and provide ecosystem services. Dr. Ackerson's work emphasizes the use of geospatial tools and emerging soil sensing systems to quantify soil condition and provide evidence-based assessment of the impacts of land use and management of the condition and health of soils.