Indiana CCA Conference 2018 Presentation
File
Presentations
W8
Pest Management
Wed, Dec 19, 2018
8:00am to 8:50am
W1
Pest Management
Wed, Dec 19, 2018
1:00pm to 1:50pm
Great Lakes, Great TImes (for Grubs): Asiatic Garden Beetle as a Field Crops Pest in the Great Lakes Region
This session will cover what is known about the Asiatic garden beetle (AGB), a relatively recent invader into Indiana and surrounding states. AGB's status as a field crops pest is unique to the Great Lakes region of northern Indiana, northern Ohio and southern Michigan. Specific topics will include both historic information and new research on its life cycle, movement and host plants; relationship to soil type; damage/ impacts; and management.
Speaker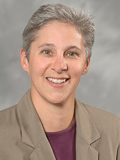 Chris DiFonzo
Professor, Field Crops Extension Entomologist
Michigan State University
Biography
Professor, MSU Department of Entomology. MS and PhD in entomology at the University of Minnesota, and post doc at the Volcani Agriculture Institute in Israel. Field Crops Entomologist at MSU since 1996, with extension and research responsibilities in corn, soybean, small grains, dry beans, sugarbeet, and other field crops. Other specific interests include aphid biology, Bt crops, and IPM. Teaching responsibilities include the general entomology course for students in the MSU College of Agriculture, as well as a course about pesticides.