Indiana CCA Conference 2019 Presentation
File
Presentations
T11
Crop Management
Tue, Dec 17, 2019
11:00am to 11:50am
T2
Crop Management
Tue, Dec 17, 2019
2:00pm to 2:50pm
Forage Management Necessities
What "tools" are necessary for an individual to succeed in the production and utilization of forages? "Tools" discussed ought to be used by producers and their crop advisors to ensure that most success happens wherever forages are grown. What do you use now? What should be purchased?
Speaker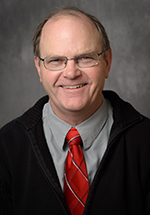 Keith Johnson
Professor, Extension Forage Specialist
Purdue University
Biography
Dr. Johnson is a Professor of Agronomy at Purdue University. He has been a member of the faculty since 1981 and specializes in forage crop production and management. During his career he has conducted research and education-related endeavors in the areas of forages as livestock feed, cover crops and biofuels. Dr. Johnson coordinates a graduate student seminar course that emphasizes communicating agronomic issues with the public. He obtained his BS degree in Agronomy and Animal Science at the University of Nebraska-Lincoln and his MS and Ph.D. degrees from Purdue University.