Indiana CCA Conference 2019 Presentation
File
Presentations
T11
Nutrient Management
Tue, Dec 17, 2019
11:00am to 11:50am
T4
Nutrient Management
Tue, Dec 17, 2019
4:00pm to 4:50pm
Using Spatial Data to Determine Soil Sample Location
Soil testing is critical step in on-farm nutrient management planning. The quality of soil testing data is highly impacted by where and how soil samples are collected. Fortunately, with proper planning can improve your chances of collecting informative soil tests. In this presentation, we will discuss techniques that leverage existing environmental data to target soil sampling and give you the best shot at collecting usable soil test data.
Speaker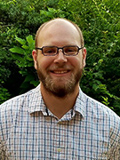 Jason Ackerson
Assistant Professor of Agronomy
Purdue University
Biography
Dr. Jason Ackerson is an Assistant professor at Purdue University. As a soils extension specialist, he has duties in both extension and research. His research and extension program focuses on applications of soil science to improve the capability of soils to support agricultural production and provide ecosystem services. Dr. Ackerson's work emphasizes the use of geospatial tools and emerging soil sensing systems to quantify soil condition and provide evidence-based assessment of the impacts of land use and management of the condition and health of soils.