Indiana CCA Conference 2019 Presentation
File
Presentations
W10
Nutrient Management
Wed, Dec 18, 2019
10:00am to 10:50am
W3
Nutrient Management
Wed, Dec 18, 2019
3:00pm to 3:50pm
N, P, K Fertilizer Opportunities for Better Soybean Yields
In this presentation, nitrogen application to soybean will be discussed. Results of statewide soil sampling and influence of P and K on soybean yield will be presented.
Speaker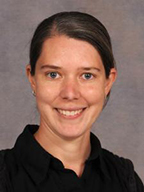 Laura Lindsey
Assistant Professor
The Ohio State University
Biography
Dr. Laura Lindsey is the soybean and small grain extension state specialist at The Ohio State University.