Indiana CCA Conference 2020 Presentation
Presentations
Nutrient Management
Wed, Dec 16, 2020
10:00am to 10:50am
Nitrogen Fixation: New Opportunities & Potential Contributions to your Cropping System Nitrogen Budget & Fertilizer Needs
Would you like to produce 15% more corn with 30% less nitrogen fertilizer? In the upper Midwest, that is the average difference in grain yield and optimum nitrogen fertilizer rate between corn following corn and corn following soybeans. Where does this yield and nitrogen come from? The soybean nitrogen credit? We will explore the source of the soybean nitrogen credit and opportunities for biological fixation of atmospheric nitrogen to contribute to your nitrogen needs.
Speaker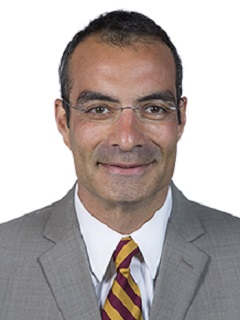 Mike Castellano
Professor
Iowa State University
Biography
Mike Castellano is a professor of soil science at Iowa State University. His research focuses on biogeochemical cycling and transport within the soil as it extends to the atmosphere and subsoil. Our ultimate objective is to maximize sustainable productivity of agricultural systems. We have particular interest in nitrogen because nitrogen frequently limits production and is easily lost from agricultural systems to the surrounding environment, where it represents an economic loss to farmers that can diminish air and water quality. Minimizing nitrogen limitation on crop production while maximizing nitrogen retention within agricultural systems is among the most important global research priorities of the 21st century. To reach these goals we use agronomic, ecological, and biogeochemical principles to advance our basic understanding of element cycling and improve ecosystem management.