Indiana CCA Conference 2020 Presentation
Practical Approaches to 4R Certification: What Should I Expect? How Do I Get Ready?
This presentation will give detailed guidance on what a 4R certification audit looks like and how to prepare for this voluntary process. The 15 core requirements that are common to any geography will be covered, with special attention paid to requirements that are unique to Indiana and/or Ohio. The emphasis will be on practical tips and ideas that have proven useful for current 4R certified participants. In addition, a "big-picture" outlook will be laid out, to help with the many gray areas that can occur during an audit.
Speaker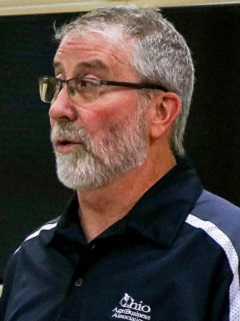 Mark Fritz
Ohio AgriBusiness Association
Biography
Mark retired from the Ohio Department of Agriculture, Division of Livestock Environmental Permitting, in February 2015. He is a graduate of Miami University in Oxford, Ohio and operated his mixed grain and livestock farm for 38 years. His previous off-farm work experience included agronomy sales and environmental responsibilities with Country Star Co-op; manure management specialist with the Soil and Water Conservation Districts; and pipeline consulting work with Land Stewards, LLC. He is a Certified Crop Advisor in good standing and since 2017 has served as the Outreach Coordinator with the Ohio 4R Certification Program.
Mark resides north of Willard, Ohio, in Huron County, with his wife, Susan. They have two grown children and 4 grandchildren who keep them very busy.