Indiana CCA Conference 2021 Presentation
Presentations
T9
Soil & Water
Tue, Dec 14, 2021
9:00am to 9:50am
T2
Soil & Water
Tue, Dec 14, 2021
2:00pm to 2:50pm
Machine Induced Soil Compaction: Causes & Agronomic Impacts on Soil & Crop
With the continuous demand to increase crop production and field machine productivity, agricultural machines are getting bigger in size creating concerns on excessive soil compaction. For instance, an axle load from a 12-row combine (Class-VIII) with full grain tank is estimated at 30 tons/axle and a single-axle fully loaded grain cart (1000-bushel capacity) is estimated at 37 tons/axle. Soil compaction can have significant negative impact on water infiltration, root development, and crop yield. Numerous studies have shown that vehicle size with an axle load of 11 tons/axle or higher can create subsoil compaction to a depth of 20 to 24 in. Crop yield loss due to soil compaction caused by wheel traffic ranges between 10-30% depending on the extent of soil compaction experienced. Across the corn-belt regions of the USA, field trafficking on wet soil conditions has become unavoidable especially during planting and harvesting operations. Tillage energy and costs to remediate excessively compacted soils could also increase tremendously. Our study will focus on how to predict the extent of engineering soil compaction from vehicle load and tire-inflation pressure settings, and investigate the effects of vehicle-soil management on agronomic soil compaction and crop yield. Recent advances in measurement and modeling techniques to quantify the extent of soil compaction and practices to avoid and manage the effects of soil compaction will be presented to benefit growers, extension agents and soil compaction decision support analysts.
Speaker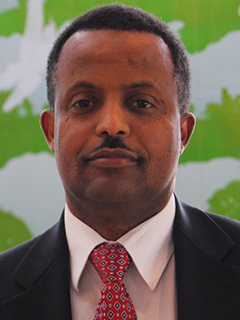 Mehari Tekeste
Assistant Professor
Iowa State University
Biography
Mehari Tekeste is an assistant professor leading a research team on Physical Systems Modeling and Simulation of Agricultural and Off-Road Machinery Systems at the Department of Agricultural and Biosystems Engineering (ABE) at Iowa State University (ISU), Ames, Iowa. Dr. Tekeste teaches an undergraduate course Functional Analysis of Soil, Crop and Machine Systems, and a graduate-level course on Modeling and Simulation of Soil-Crop-Machine Systems. His current research focus includes (1) developing models of particle (soil & crop)-to-machine interactions, and advancing multi-physics virtual engineering analysis for off-road equipment design and machine performance analysis, and (2) advancing soil dynamics research for soil compaction, traction, and tillage precision applications and their relationships on crop yield.
Dr. Tekeste has also industry experience working in design and performance analysis of various Ground Engaging Tools (GET) (subsoiler, cultivator sweep, loader buckets) for Agriculture and Construction equipment, virtual and testing analysis of tire & track mobility systems for predicting traction performance and soil compaction, and modeling crop handling systems of crop harvesting equipment.
In his career, Dr. Tekeste published over fifty papers, and supervised many graduate students, postdoctoral associates, and visiting scholars within his research area. He is Editor of the Journal of Terramechanics, and actively involved in standards development and leadership roles related to soil dynamics in the International Society of Terrain-Vehicle Systems (ISTVS), and American Society of Agricultural and Biological Engineering (ASABE) professional societies. Recently he has established a new Soil Machine Dynamics Laboratory at ISU (https://www.abe.iastate.edu/tekeste/) consisting of two soil bin equipment for mobility and GET studies, and circular wear testing soil bin for accelerated low-stress abrasive wear of tillage tools.