Indiana CCA Conference 2021 Presentation
File
Presentations
W9
Pest Management
Wed, Dec 15, 2021
9:00am to 9:50am
W2
Pest Management
Wed, Dec 15, 2021
2:00pm to 2:50pm
Bringing Plant Disease Forecasting Science to the 21st Century Farm
Farm production has become increasingly reliant on technology to improve accuracy of management decisions and production efficiency. Along with this wave of technology use, major breakthroughs in plant disease modeling and prediction have been made in basic science. These concurrent trends have made it possible to put the latest research-based disease prediction and management technology directly in the hands of farmers. This presentation will highlight on-going work to develop smartphone-based applications (apps) that were built on a basic research foundation and are used to predict and manage plant disease in the field. The discussion will include the apps Sporecaster and Tarspotter. Information on how they were developed and validated, how they should be used, and public impressions will be presented.
Speaker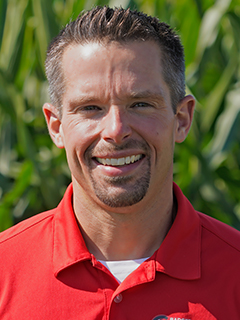 Damon Smith
Associate Professor and Field Crops Pathology Extension Specialist
University of Wisconsin-Madison
Biography
Damon Smith is an Associate Professor and Extension Plant Pathologist at UW-Madison. Damon is also the director of the Nutrient and Pest Management Program at the University of Wisconsin-Madison. Damon's responsibilities include research and extension efforts that focus on improving our understanding of the epidemiology of plant pathogens in order to develop better control recommendations for the sustainable management of field and forage crop diseases. Damon is a native of Western New York State. He earned his B.S. in Biological Sciences at the State University of New York, College at Geneseo, and his M.S. and Ph.D. degrees from North Carolina State University. Prior to Damon's appointment at UW he was an assistant professor and extension specialist at Oklahoma State University.