Indiana CCA Conference 2022 Presentation
File
Presentations
W9
Pest Management
Wed, Dec 14, 2022
9:00am to 9:50am
W2
Pest Management
Wed, Dec 14, 2022
2:00pm to 2:50pm
Field Crop Pathogen Resistance and Link to Human Health
Fungicides are critical for food security and food safety. However, plant-pathogenic fungi, as well as non-target fungi associated with crop debris, can develop resistance. There are plant-associated fungi that cause fatal lung diseases in people who are immunocompromised, yet very few medications are available to treat these infections. One of the most effective antifungals shares the same mechanism of action as a class of widely used fungicides - the triazoles. When people acquire infections that are resistant to triazoles their disease is most often fatal. This talk will cover research findings on fungicide resistance developing in crop-associated fungi that are human pathogens and how we can maintain these important compounds to continue fighting diseases of crops and people.
Speaker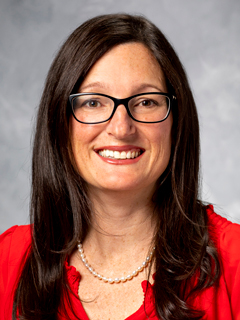 Marin Brewer
William Terrell Distinguished Professor
University of Georgia
Biography
Marin Talbot Brewer is the William Terrell Distinguished Professor of Mycology and Plant Pathology at the University of Georgia where she has been a faculty member since 2011. Her research focuses on emerging fungal threats to plants and people with interests in the genetic basis of disease emergence and host specialization, the evolution of fungicide resistance and fungal mating systems, and the taxonomy and systematics of fungi causing emerging plant diseases. She received her M.S. in Plant, Soil, and Environmental Science from the University of Maine where she studied the effects of biological and cultural controls on soil microbial ecology and Rhizoctonia disease of potato, and her Ph.D. in Plant Pathology and Plant-Microbe Biology from Cornell University in 2011, where her dissertation focused on the phylogeography and mating system of the grape powdery mildew fungus, Erysiphe necator. Recent work in the Brewer lab is concentrated on azole resistance in the human pathogen Aspergillus fumigatus in environmental settings. Her research has been funded by diverse agencies including the National Science Foundation, the U.S. Department of Agriculture, and the Centers for Disease Control and Prevention.