Indiana CCA Conference 2022 Presentation
File
Presentations
W3
Crop Management
Wed, Dec 14, 2022
3:00pm to 3:50pm
W10
Crop Management
Wed, Dec 14, 2022
10:00am to 10:50am
​Soybean Planting Date and Interaction with Cover Crop Termination Timing
In this presentation, you'll hear about soybean planting date research from Ohio, including 'ultra early' soybean planting. You'll also learn about soybean planting date and cover crop termination timing interactions.
Speaker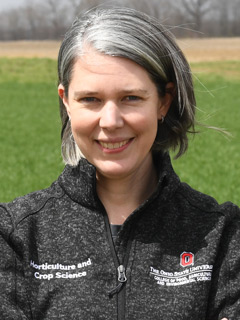 Laura Lindsey
Soybean and Small Grain Extension State Specialist
The Ohio State University
Biography
Laura Lindsey is the soybean and small grain extension state specialist at Ohio State University. She received her BS and MS degrees in Soil Science from Ohio State University and PhD in Crop and Soil Sciences from Michigan State University. Her research and extension program focuses on agronomic practices to maximize yield and profitability while maintaining environmental sustainability.