Indiana CCA Conference 2018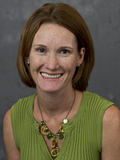 Laura Bowling
Professor of Agronomy
Biography
Laura earned her bachelor's degree in civil engineering and water resources from Princeton University, and her master's and doctorate from the Department of Civil and Environmental Engineering at the University of Washington, Seattle. Laura is a full Professor with research and teaching responsibilities in the Department of Agronomy at Purdue University, and has a courtesy appointment in the Department of Agricultural and Biological Engineering.

Laura teaches an undergraduate course in Environmental Hydrology and Hydrologic Field Skills, and serves as an undergraduate advisor. She also mentors several graduate students and teaches a graduate level course in Statistical Hydrology.

Her research interests include quantifying the hydrologic and water quality impacts of agricultural drainage practices, investigation of edge-of-field and watershed-scale conservation measures to mitigate the impacts, and evaluation of water resources sustainability, with emphasis on agricultural water use. Laura serves as a member of the Executive Committee of both the Purdue Climate Change Research Center and the Purdue Water Community, and as one of the Purdue representatives to the Consortium of Universities for the Advancement of Hydrologic Science, Inc. (CUAHSI). She also serves on the University Library Committee.​