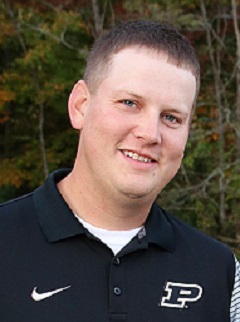 Speaker
Carter Morgan
Soil & Water Conservation District
Carter and his wife, Abby, live on the family farm in Perrysville, Indiana. Carter farms about 2,700 acres of corn, soybeans and wheat in west central Indiana and east central Illinois with his dad, Brian, uncle Darrell, and brother Brent. Carter graduated from Purdue University in May of 2013 with a bachelor's degree in Agriculture Systems Management with minors in Crop Science and Farm Management. Upon graduation Carter returned to the family farm.
Morgan Brothers LLC is 100% no-till with approximately 90% of their row crop acres having cover crops on them. Brian and Darrell began no tilling soybeans in the early 1990's and went 100% no-till in 2006. Cover crops began on the farm in 2011 with about 150 acres and have steadily grown from year to year. In the last couple of years the operation has had over 2,000 acres of cover every fall.
In January of 2017, Carter took on another endeavor with the Parke and Vermillion County Soil and Water Conservation Districts as a Soil Health Consultant. Some of his tasks include, meeting with farmers and landowners to promote and establish soil health principles on land in Parke and Vermillion Counties, dissect information that growers get from INField Advantage, and hold group meetings to help growers communicate with one another in small casual settings. In, September of 2019 his territory increased and crossed the state line into Illinois to help facilitate peer networks in Vermilion and Edgar Counties in Illinois.
Carter is very passionate about conservation farming, specifically cover crops. He will tell you that he is very similar to most farmers who farm because he is farming like his dad and uncle do. The only exception is that all he has known is no-till and cover crops.
Presentations
Back