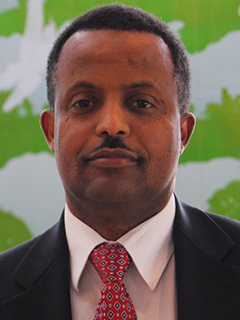 Speaker
Mehari Tekeste
Assistant Professor
Iowa State University
Mehari Tekeste is an assistant professor leading a research team on Physical Systems Modeling and Simulation of Agricultural and Off-Road Machinery Systems at the Department of Agricultural and Biosystems Engineering (ABE) at Iowa State University (ISU), Ames, Iowa. Dr. Tekeste teaches an undergraduate course Functional Analysis of Soil, Crop and Machine Systems, and a graduate-level course on Modeling and Simulation of Soil-Crop-Machine Systems. His current research focus includes (1) developing models of particle (soil & crop)-to-machine interactions, and advancing multi-physics virtual engineering analysis for off-road equipment design and machine performance analysis, and (2) advancing soil dynamics research for soil compaction, traction, and tillage precision applications and their relationships on crop yield.
Dr. Tekeste has also industry experience working in design and performance analysis of various Ground Engaging Tools (GET) (subsoiler, cultivator sweep, loader buckets) for Agriculture and Construction equipment, virtual and testing analysis of tire & track mobility systems for predicting traction performance and soil compaction, and modeling crop handling systems of crop harvesting equipment.
In his career, Dr. Tekeste published over fifty papers, and supervised many graduate students, postdoctoral associates, and visiting scholars within his research area. He is Editor of the Journal of Terramechanics, and actively involved in standards development and leadership roles related to soil dynamics in the International Society of Terrain-Vehicle Systems (ISTVS), and American Society of Agricultural and Biological Engineering (ASABE) professional societies. Recently he has established a new Soil Machine Dynamics Laboratory at ISU (https://www.abe.iastate.edu/tekeste/) consisting of two soil bin equipment for mobility and GET studies, and circular wear testing soil bin for accelerated low-stress abrasive wear of tillage tools.
Presentations
Back