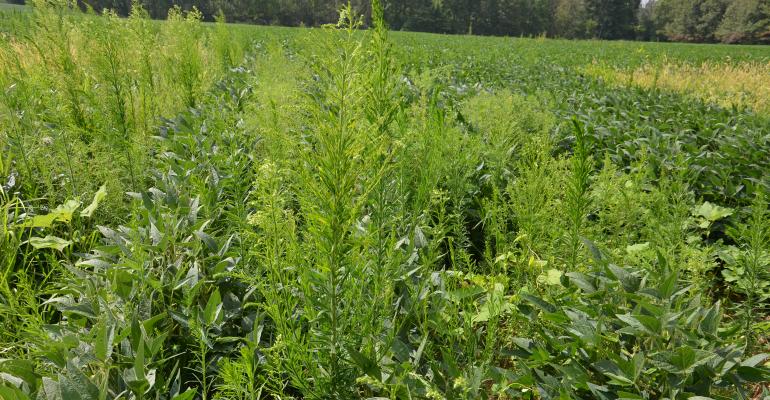 Soybean Pest Beat: Consultants believe some people will continue to count on the LibertyLink system to work on resistant weeds.
Tom J Bechman | Dec 07, 2017
My seedsman is pushing me toward Liberty-tolerant soybeans because of increasing weed pressure. It requires some adjustments, but I could make it work. My concern is if dicamba-tolerant soybeans take over, will Liberty-tolerant soybeans still be viable?
The Indiana certified crop advisers panel providing answers this month includes: Danny Greene, Greene Ag Consulting, Franklin; Andy Like, agronomist, Amvac, Knox County; and Jeff Nagel, agronomist, Ceres Solutions Cooperative, based in Lafayette.
Nagel: The increase in the distribution of glyphosate-resistant weeds is causing many farmers to evaluate soybean platforms for weed control. LibertyLink soybeans tolerant to glufosinate are one of the choices for 2018. The other main platform is Roundup Ready 2 Xtend soybeans that are tolerant to the labeled dicamba herbicides XtendiMax, FeXapan and Engenia. Both systems provide help on key glyphosate-resistant weeds like marestail, giant ragweed, waterhemp and Palmer amaranth.
While dicamba-tolerant soybeans will likely be planted on more acres than Liberty next year, it should remain a viable platform into the future. Farmers need all available technologies for future weed management programs.
Greene: Focus on your 2018 soybean variety plan now, which should include yield, maturity, disease, pest and agronomic traits. Herbicide technology trait is an important part of your decision, but only one part. If the Liberty-tolerant soybeans give you a weed control advantage, consider varieties with that trait for 2018. Re-evaluate variety options for 2019 once you have up-to-date information to work with.
Like: Yes, the Liberty system will still be a viable option. Both the dicamba and the LibertyLink system have their strengths and weakness. I would recommend you speak with your crop protection dealer and get his or her input on what system works best for your area and your weed pressures. Considering the glyphosate-resistant weed problems we're having, it's in our best interest to have multiple trait options to choose from.
Nagel: If you do go with LibertyLink soybeans and haven't used the LibertyLink system before, there are a few tips that could help make your experience better. Liberty is a postemergence contact herbicide and can provide good weed control. Contact herbicides need to be treated somewhat differently than herbicides that translocate, such as glyphosate.
The following four guidelines are suggested for the Liberty weed control system.
1. Start clean. Either use tillage or effective burndown herbicides to ensure a clean field before planting.
2. Always use a soil-applied residual herbicide at or near planting. Make sure you have two effective sites of action on target weeds. Be careful of premix herbicides that claim two or three sites of action. That may be true, but make sure they're effective on your target weeds and contain enough active ingredient for control.
3. Apply glufosinate postemergence on weeds less than 4 inches tall. Apply in 20-gallons-per-acre-of-spray volume with nozzles that deliver medium to coarse droplet sizes for best results.
4. If needed, tank-mix a Group 15 herbicide with Liberty. This will help control late-germinating weeds like waterhemp or Palmer amaranth. The Group 15 herbicides include Dual Magnum, Outlook, Warrant and Zidua. Some of these also come in premixes like Prefix and Warrant Ultra.