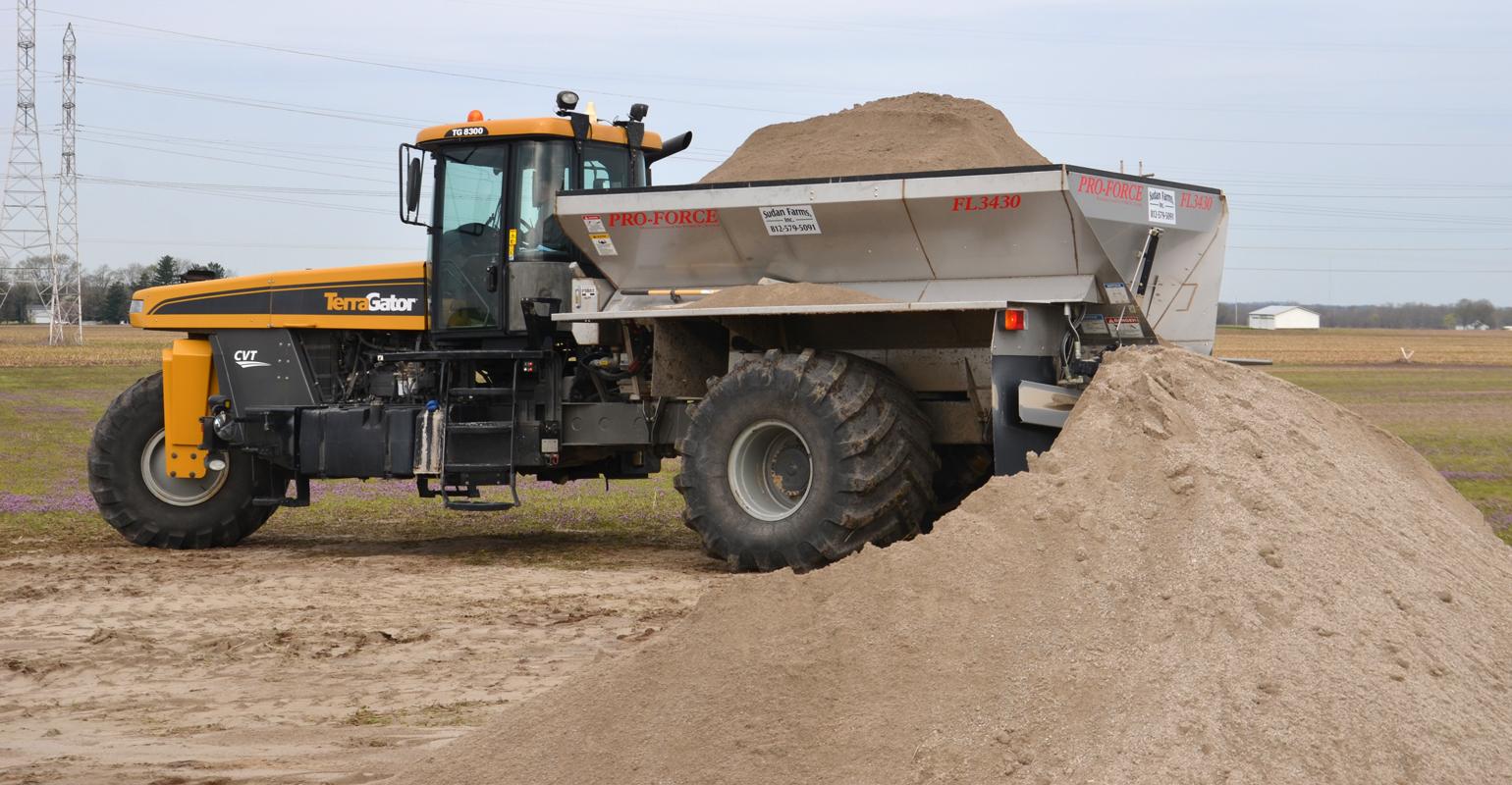 Soybean Pest Beat: Examine soil test levels carefully and weigh your economic options.
Mar 04, 2020
I've got fields going to soybeans where the pH in 2019 soil tests was 5.7 to 6.3. I was going to have lime variable-rate applied, but weather interfered. Is this low enough that I should make lime a priority this spring? Or can I wait until fall? Is pelletized lime an economic option?
The Indiana certified crop advisers answering this question are Gene Flaningam, Flaningam Ag Consulting, Vincennes; Greg Kneubuhler, G&K Concepts Inc., Harlan; and Bryan Overstreet, Jasper County Extension ag educator.
Flaningam: Optimal soybean yields can be achieved in the soil pH range of 6.5 to 6.8. Legumes respond very well to ag lime applications. If field conditions allow the application of ag lime this spring, get lime applied before planting. Ag lime quality is based on the relative neutralizing value. An RNV reading of 60 or more is considered good-quality ag lime. You will get approximately a third of the total ag lime availability immediately following your application with needed rainfall.
A second option is to apply pelleted ag lime with commercial fertilizer this spring. A rate of 200 to 300 pounds of pel lime will be needed to benefit the current crop. There will not be a long-term benefit from this application. The terms of your land rental agreements should also be considered when applying ag lime.
Kneubuhler: That's a typical situation. The real key here is calcium. While pH is important, it's primarily driven by calcium and magnesium reactions in the soil. If you farm low-exchange capacities, below 10, then magnesium needs to be highly looked at to be sure you carry enough there for the plants' needs. If you have exchange capacities over 10, calcium tends to be your driving factor.
I would make the call on whether you can wait till fall or need to "Band-Aid" the situation with pel lime based on calcium and magnesium relationships in relation to the soil's exchange capacity and soil water pH. If calcium is insufficient, pel lime can supplement the situation until a fall lime application can be made.
Keep in mind that while pel lime is a great product and highly water soluble, it's hard to move the needle on calcium if calcium needs are very deficient. Generally, a few hundred pounds of pel lime cost the same money as 1 ton of high-calcium lime. Your calcium contribution from pel lime is only about 10% to 15% of what 1 ton of high-calcium lime would provide.
Overstreet: In a perfect world, I would like to see the pH around 6.5 for soybeans, but generally if the pH is 5.8 or higher, there will not be an economic hit on the yield. I would evaluate how much of the fields are testing at 5.7 to determine the urgency of getting lime spread this spring. If weather cooperates, it would be nice to get it done this spring, but if most of the area in the fields are testing 5.8 or higher, I would not panic. Your tests are high enough that I would not worry about paying the expense for pelleted lime. If you can get a high-quality, finely ground ag lime, you will be better off financially in the long run.