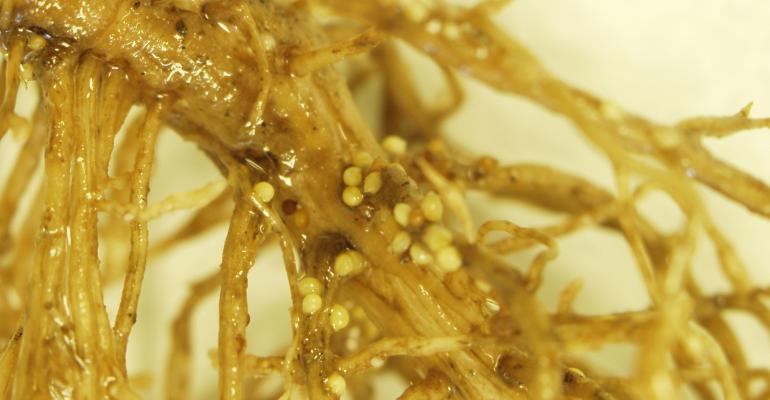 Soybean Pest Beat: Soybean cyst nematode could be sucking up profit without you knowing about it.
Nov 01, 2022
We keep reading that soybean cyst nematode is a hidden pest. Can I test for SCN now? If so, how? Should I sample multiple fields? Where do I send samples?
The Indiana certified crop adviser panel answering this question includes Danny Greene, agronomist with Greene Crop Consulting Inc., Franklin; Marty Park, sales agronomist with Gutwein Seed Services, Rensselaer; and Jesse Uebelhor, agronomist with Superior Ag, Jasper.
Greene: Soybean cyst nematode will rob yield. Cost of a sample is a low price to pay for information that can help with a potential multiple-bushel production decision. Yes, you or your consultant can collect a good sample for SCN in any crop, any time you can get a soil probe in the ground.
The recommended sampling plan is taking cores in a zigzag pattern across the area to represent up to 20 acres. Pull 10 to 20 cores, 6 to 8 inches deep; mix them together and prepare a 1-pint sample.
Here's one lab option: SCN Diagnostics,1054 East Campus Loop, University of Missouri, Columbia,MO 65211-5315. If you send it there, use a PPDL-3-W form available through Purdue's Plant and Pest Diagnostic Lab website. Through support from the SCN Coalition and Darcy Telenko's Purdue crop disease lab, the first sample is free for Indiana residents. Additional samples are $25 each.
Start by separately sampling patches with stunted plant growth and/or suppressed yield and compare these with samples from the same soil type that yielded well in the same field. Another strategy would be to sample all your fields to establish a baseline number. After that, pick which fields to monitor more closely as you manage to reduce cyst numbers in fields with the highest levels.
Park: You can pull samples for cyst at any point in time during the season when the ground isn't frozen. I would Google "Purdue nematology" or "SCN Coalition" to find a list of labs that test and review their sampling procedures. Some growers focus on testing problem spots where yields have not been up to par. Others test entire fields to assess pressure.
Uebelhor: SCN continues to be the No. 1 yield robber in soybeans. Nematode problems are misdiagnosed as soil compaction or nutrient deficiencies in many fields. Test your soils right after harvest. Follow this procedure:
Collect samples. Use a 1-inch-diameter soil sampling probe.
Collect at least 15 to 20 cores. Follow a zigzag pattern across the field. Samples should be collected from the root zone at 6 to 8 inches across 10 to 20 acres.
Mix cores. Break up soil cores and mix well in a bucket.
Bag the sample. Place at least 2 cups of the sample in a bag and submit for SCN testing. A sealable plastic bag works great.
Choose a lab. Send samples to any labs you use for other testing. Some universities offer testing too.
Assess results. If you have high SCN levels, select varieties with SCN resistance. Most companies use PI88788 as the major source of resistance. Consider varieties with Peking resistance if you have high levels of SCN.