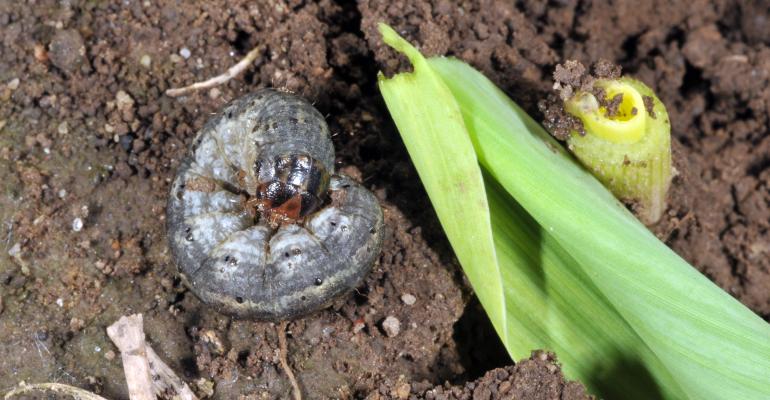 Corn Pest Beat: Here is a closer look at which insect pests to pay attention to in moth trap counts and how to find that information.
Tom J Bechman | Mar 06, 2018
I want to follow moth trap reports this year to do a better job scouting in corn. Which insects should I follow, and where can I get the information? How do I know what it means?
The Indiana certified crop adviser panelists answering the question are: Gene Flaningam, Flaningam Ag Consulting LLC, Vincennes; Greg Kneubuhler, G&K Concepts, Harlan; and Tom Stein, Templeton/Boswell branch manager for Ceres Solutions Cooperative.
Flaningam: Black cutworm would be the first insect to monitor with a moth trap, followed by corn borer and then corn earworm. Most of these moth flights are recorded by university newsletters and publications. The Purdue Pest and Crop Newsletter publishes weekly during the growing season. You do have the option to buy your own traps through an integrated pest management supply company.
Kneubuhler: I think any responsible manager should be monitoring this kind of information. We are a trapping site here in northeast Indiana for Purdue University already.
My first suggestion is to check weekly on the Purdue agronomy website. There is always valuable information on this website. They post the weekly moth counts for various pests as the season progresses. It can be very beneficial in prioritizing your scouting or making you aware of what to look for in the field.
I would suggest paying attention to black cutworm moths, European corn borer and western bean cutworm [especially in areas of the state and on soil types where western bean cutworm has caused economic losses in the past]. A lot of times, you can get a handle on how to anticipate insect pressures or scouting by monitoring the weekly trap counts of these pests. Each one of these has a different impact and management protocol. [Each one has a different economic threshold when treatment would be warranted.] I'd encourage you to work with your CCA to help manage those pests as the need arises.
Stein: The major insects you should monitor would include black cutworm, armyworm, European corn borer, corn earworm and western bean cutworm.
A good source for that information is the Purdue University Pest and Crop Newsletter, posted weekly online during the growing season and emailed to subscribers by the Purdue Entomology Department. The newsletter does a great job of informing about pest problems, crop development and current information about the most economically effective and environmentally sound pest management strategies. The newsletter is issued weekly for 27 consecutive weeks throughout the growing season. You can subscribe to that online.
Moth traps are monitored at every Purdue ag research center, as well as several other field locations throughout the state with the support of different cooperators.
It's important to understand that high trap counts of moths don't directly relate to nor are predictive of field infestation levels or damage. Moth traps are simply an indicator of presence or absence of an insect, and should be used as a reference tool to help you decide when to start scouting your fields — particularly when those trap counts spike.