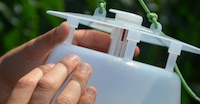 Corn Pest Beat: Pay attention to corn rootworm beetles even late in the season.
Tom J Bechman 1 | Jul 05, 2017
There are still rootworm beetles flying in the corn, but most silks are brown. Should I ignore the beetles? Is there any reason to pay attention to them at this point?
This is a question for the Indiana certified crop advisers panel. Participating this month are: Traci Bultemeier, accounts manager, DuPont Pioneer, Fort Wayne; Gene Flaningam, Flaningam Ag Consulting LLC, Vincennes; and Bryan Overstreet, Purdue University Extension ag educator, Jasper County.
Bultemeier: The number of rootworm beetles present will give an indication of egg-laying potential, and thus possible hatch size and economic damage next spring. A fun way to spend time in the field is to identify which beetles are male and which are female. A male western corn rootworm beetle is mostly black or dark in its wing color, while the female typically will show more of the striping or less coloring. Remember, the female western corn rootworm can lay as many as 1,000 eggs in her lifetime, mostly during August and September! When scouting, also look for leaf damage to the corn plant, as a heavy infestation can begin to feed on leaves, as well.
Flaningam: Late-season rootworm beetles may not be a large factor for your current crop. In other words, they likely won't cause further damage that could affect yield. However, they may be an indicator of prior root feeding that occurred earlier in the season. Get out and dig some plants to determine the quality of your corn root masses. Poor roots may lead to lodging at harvest. Use this information when determining where you will plant corn next year, and if an insecticide will be needed for next year's corn crop.
Overstreet: Once silks have turned brown, they've either been pollinated or died without being pollinated. The beetles will not damage them at this stage. Note: During silking, when pollination and kernel set are still occurring, beetle feeding and clipping of silks can interfere with pollination. If you still have corn in this stage and beetles are clipping silks, ask your Extension educator for help in determining whether or not spraying for beetles is warranted.
You can do the shake test to see how good your ears were pollinated. Bob Nielsen, Purdue University Extension corn specialist, has made a point of demonstrating this method at field days and training sessions over the past couple of decades.
Gently take out the ear from the shuck, shake the ear, and let the silks drop. Once a kernel is pollinated, the silk will detach from the ear. If silks stay attached to the ear, it means the ovule served by that silk has not been pollinated yet. A kernel will not form unless pollination occurs. Your goal is to have most, if not all, silks detach from the cob. When that happens, it indicates that pollination has occurred.