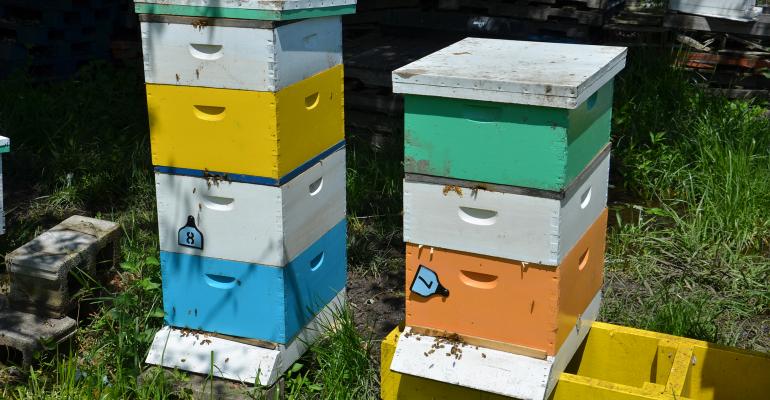 Corn Pest Beat: There are things you can do to lessen the release of dust that could carry insecticides potentially harmful to honeybees.
Tom J Bechman | Oct 14, 2017
I'm making plans for next year. Maybe the guy at Purdue who says seed-coated insecticides exiting on dust from planters harms bees has a point (Christian Krupke, Purdue University Extension entomologist). I'm not sure. Just in case, are there products I can buy or things I can do to reduce release of dust from inside the planter next spring?
The Indiana certified crop advisers answering this question are: Betsy Bower, agronomist for Ceres Solutions Cooperative, Terre Haute; Jamie Bultemeier, agronomist and corporate sales manager for A&L Great Lakes Labs, Fort Wayne; and Steve Gauck, sales agronomist with Beck's, Greensburg.
Bultemeier: The key to reducing impact to bees is reducing off-target movement of the seed treatment. If the seed treatments stay on the seed,
risk to bees is all but eliminated. What are some things we can do to help that?
No. 1, buy quality seed that has been treated with the correct amount of seed treatment. The seed treatment should be uniform and not easily rubbed off the seed. Second, gently transfer and transport the seed so the seed treatment isn't physically removed from the seed. Third, use correct planter settings to avoid aggressive handling of the seed. Be selective about talc and graphite additives. Finally, use just enough talc and graphite additive to coat the seed. The only graphite and talc leaving the planter is usually the excess that you didn't need in the first place.
Bower: Bayer manufactures the Bayer Fluency Agent Advanced product that is a new seed lubricant for corn and soybeans that drastically reduces dust-off during planting. (The dust-off is what leads to problems in the first place.) Bayer Fluency Agent Advanced can be used in place of talc, graphite and talc-graphite-blended seed lubricant products. Your crop protection retailer and planter manufacturers have access to this product.
Gauck: The challenge with the dust mainly comes from vacuum planters. Bayer has created a seed box lubricant, Bayer Fluency Agent, to greatly reduce dust emissions from the planter while planting compared to using talc. If you still plan to use talc, graphite or a talc-graphite blend, be sure you use the least amount of that product possible that still gives you good seed flow through the planter. Be sure the seed treatment is high-quality and adheres to the seed.
Try to avoid actions or practices on your part that can create dust from the seed bags, the seed tender or at planter loading in the field or barn lot before you head to the field. Keeping your planter and seed boxes clean will also help minimize dust.
Finally, if you know of beehives present in your area, be sure to fill your planter boxes downwind or away from where the beehives are located.