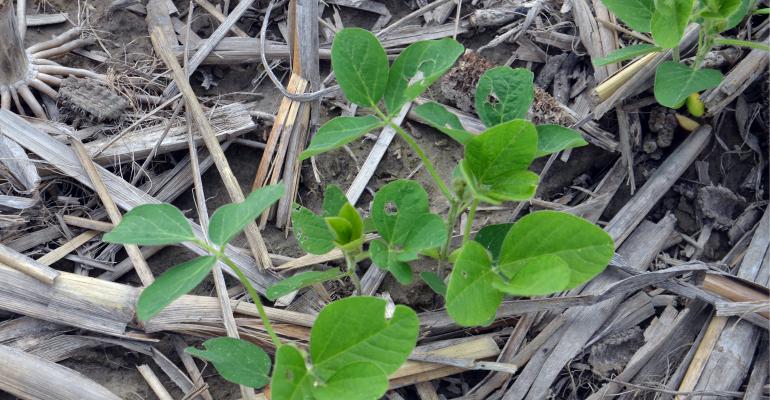 Soybean Pest Beat: Agronomists vary as to whether it's necessary to address this feeding early in the season.
Feb 28, 2019
We usually order soybean seed with a fungicide but not an insecticide. Sometimes we see holes in leaves when beans are small. New leaves aren't usually affected. Which pest is likely causing this? Is it worth paying for a seed insecticide just to avoid that feeding?
The Indiana certified crop adviser panel answering this question includes Gene Flaningam, Flaningam Ag Consulting LLC, Vincennes; Greg Kneubuhler, G&K Concepts, Harlan; and Tom Stein, manager of the Boswell and Templeton branches for Ceres Solutions Cooperative.
Flaningam: Insecticide-treated seed at planting will help protect the seed and give protection to the seedling after it emerges. Small holes in leaves after emergence are most likely bean leaf beetle feeding. Excessive feeding during early growth can lead to stand losses. The feeding scars can open wounds in the plant's leaf surface for seedling blights to develop. The only real downfall for insecticide is the reduction of the natural pest that feeds on slugs. Weigh your options on what primary pest you are targeting on each farm.
Kneubuhler: Typically in Indiana, early-season feeding during the first through the sixth trifoliate soybean growth stage tends to come from bean leaf beetles or Mexican bean beetles. Generally, feeding pressure very early in the season doesn't translate into a yield reduction. Soybeans have a tremendous capability to handle defoliation, especially early in the year.
We've seen, however, that seed-applied insecticide significantly reduces bean leaf beetle or Mexican bean beetle later in the season, when soybeans are much more susceptible to defoliation. Although we haven't experienced too much aphid pressure the last several years, we've seen seed-applied insecticide significantly reduce aphid pressure when used. Generally, soybean seed treatment packages that bring together fungicides, insecticides and inoculants are cheaper than those products used individually. Often an insecticide can be added for a few dollars per unit. As a good agronomic management decision, we like to see the insecticides added to the seed treatment package.
Stein: The pest that's causing you to see holes in the leaves when soybeans are very small is probably bean leaf beetle. Feeding by bean leaf beetles on early-planted soybeans is not unusual, but they hardly ever reach economic thresholds. Soybean seedlings have a tremendous amount of vigor and usually outgrow these infestations. New growth develops relatively unscathed, as you mentioned in your observation that new leaves usually aren't affected.
However, don't ignore this issue. My advice is to operate within an integrated pest management framework. Make sure you scout your fields, and if the infestation reaches economic threshold levels, then you can use the money you saved on the insecticide seed treatment and make a foliar application, if necessary.