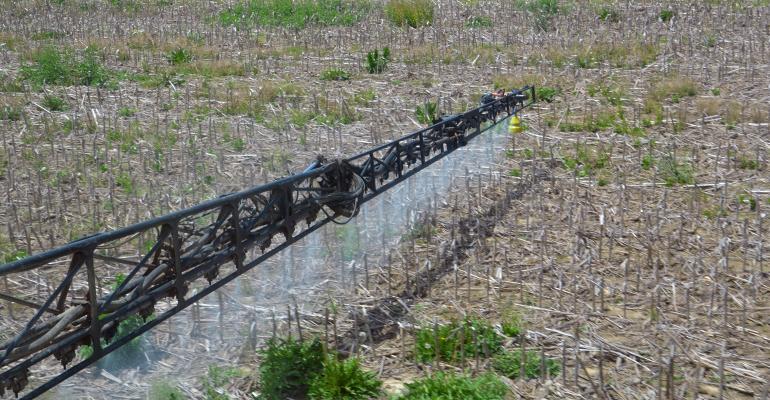 Soybean Pest Beat: Don't just assume you can't control weeds well in 2022.
Mar 10, 2022
I may have to accept less than 100% weed control because I can't get everything I want. Any advice for surviving '22 with fewer bullets in my weed control arsenal than normal?
The Indiana certified crop adviser panel answering this question includes Gene Flaningam, Flaningam Ag Consulting LLC, Vincennes; Brian Mitchem, area manager for Nutrien Ag Solutions/Loveland Products, Decatur; Jeff Nagel, agronomist for Ceres Solutions, Lafayette; and Shaun Casteel, Purdue Extension soybean specialist.
Flaningam: Purdue University research provides insight on early-season weed control. Two pigweeds per 10 square feet left to harvest give you 50% of yield potential. Ten giant foxtail weeds per 10 square feet yield 93% of full yield potential. Current soybean prices are in the $13 range. Spend the extra money for preemergence, followed by a sound post program.
Mitchem: This will require several options, including use of "older" chemistries. Just because you can't access your first choice doesn't mean you have to accept less-than-desired weed control. First, identify which farms are must-use for your limited supply of in-crop options and apply there first.
Second, use a broad-spectrum foundation preemergence herbicide across all acres every time. Use a product that has at least three effective sites of action. Choices include groups 5, 14 and 15 in beans. I highly recommend including a soil surfactant with all pre herbicides to keep a higher percent of applied chemistry in the kill zone. Most will use a clethodim-based product for annual grasses and volunteer corn instead of glyphosate.
Nagel: Weed management will be more challenging, but acceptable control can still be achieved in most cases. Glyphosate and glufosinate are of most concern. Focus on strategies to minimize weeds that must be controlled postemergence.
Start clean with a good burndown or effective tillage. Use a multiple site-of-action, soil-applied, residual herbicide with activity on target weeds at or near planting. Apply postemergence herbicide when weeds are 4 inches or less. Apply a Group 15 herbicide such as Dual, Outlook, Warrant or Zidua for overlapping residual control when you spray postemergence herbicides for waterhemp and/or Palmer amaranth.
Most yield loss occurs from early-season competition. Mid- to late-season weed escapes have much less impact on yield but allow weed seed production. Minimize pigweeds like waterhemp and Palmer amaranth from setting seed. This might even mean cutting or pulling scattered escaped plants.
Casteel: I'm a firm believer in starting clean and maintaining it. Weed control in '22 may look different, but I think we actually might be even better managers if we do our homework and use residual herbicides. If glyphosate and glufosinate are tight, it's an opportunity to be purposeful in their use.
Solid burndowns with residual herbicides will be the foundation so we can be timely in postemergence application. Residuals provide the jump-start for soybeans to actively grow before the next flush of weeds. The postemergence application during early vegetative stages of soybeans further provides the competitive advantage to shade out weeds. Other residual options and other chemistries depending on the herbicide trait package can extend weed control to keep weeds in check.
Adequate plant populations and moderate to narrow rows will be advantageous. Soybeans in 15-inch rows close the row three to four weeks faster than soybeans in 30-in rows. That rate of canopy closure is beneficial in weed control and capitalizing on the growing season and sunlight for yield.