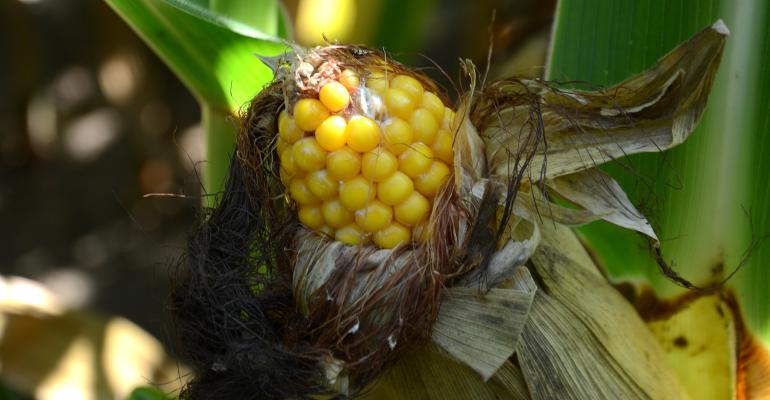 Corn Pest Beat: Knowing which ear molds were in your fields is the first step to fighting them.
Oct 31, 2022
Ear mold hit hard this year. Should we change our hybrid selection process? Are there hybrids resistant to ear mold?
The Indiana certified crop adviser panel answering this question includes Danny Greene, agronomist with Greene Crop Consulting Inc., Franklin; Marty Park, sales agronomist with Gutwein Seed Services, Rensselaer; Jesse Uebelhor, agronomist with Superior Ag, Jasper; and Dan Quinn, Purdue Extension corn specialist.
Greene: First determine which molds you have. Common ear rots include fusarium, gibberella and diplodia. Trichoderma and penicillium also appeared this year.
Sometimes the disease is more environmentally driven, and sometimes it's driven more by the hybrid. Conditions at grain fill are often a factor. Sometimes ear mold increases if cobs grow longer than husks, ears remain upright, husks are loose or birds damage grain on the ear.
Seed companies may publish scores for common ear rots. Hybrids vary in scores, but often scores are not available. Check with your seed agronomist for information.
At greater than 25% ears with damage, chances are good you incurred economic loss through docks, lower test weight and yield loss. Did you apply fungicides at early reproductive stages? If your yield was good but you didn't protect the grain, consider a planned fungicide application with those hybrids.
Park: Each type of ear mold has a different cause and set of weather circumstances that allow it to proliferate. Insect or bird damage allows moisture into ears, leading to ear molds. First identify the ear mold and investigate potential causes. Evaluate hybrids on susceptibility to that specific ear mold. Rotate those fields to another crop and potentially till to help bury residue.
Although true resistance does not exist, visit with your seed dealer about hybrids that can provide the same yield and agronomics with less risk of ear mold.
Uebelhor: If you find ear mold, look for insect feeding in ear tips. Many fields here had corn earworm feeding on the top 1 to 2 inches of ears, allowing moisture to enter and cause ear molds. If you had earworm feeding, select hybrids with Trecepta or Viptera traits, which have excellent control of earworms. If no feeding is found, determine which ear molds were present.
Fungal pathogens in corn overwinter, so crop rotation and tillage, along with selecting hybrids with lower susceptibility against ear molds, will help slow development in your fields. Most companies screen for ear molds, but frequency varies year to year, so tolerance ratings can vary.
Quinn: Many seed companies rate hybrids for tolerance and resistance to ear rots. Therefore, if you find significant ear rots, work with your seed dealer to understand which hybrids have some level of tolerance or resistance to observed ear rots. It is also important to understand which specific ear rots are present. Identifying the specific ear rot can help identify the reason behind why it occurred, which hybrids should be selected and how the disease can be managed in the future. Sending ear samples to the
Purdue Plant and Pest Diagnostic Lab
helps ensure the disease is properly identified.
For example, aspergillus ear rot with a powdery, olive-green color often shows up during hot and dry years where corn plants are stressed, and/or if ear-invading insects impact corn. Ear rots such as aspergillus can produce alflatoxin or other mycotoxins harmful to both livestock and humans.